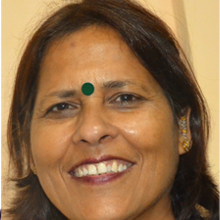 Professor and Chairperson in Mass Communication

Himachal Pradesh University, Shimla

India
Vir Bala Aggarwal is Professor  and Chairperson in Mass Communication at Himachal Pradesh University, Shimla where she has been since 1986. She has been a senior researcher and academic, has a brilliant and scholastic career in Master in Mass Communication and B.Tech (Printing Technology). She has also acquired Post Graduation in Economics with brilliant record. Her doctoral thesis is in the area of Electronic Media. She is also the recipient of  Bharat Nirman Award and Vijay Rattan Award.
Before joining at Himachal Pradesh University, Shimla she worked with Panjabi University Patiala and then went to Punjab State Text Book Board, Chandigarh as a Publication Officer. She was also Director for Women's Study Centre at Shimla from 2000-2002.
She has brought out six books. Her two text books -Handbook of journalism and Mass Communication and Essentials of Practical Journalism are very popular among media professionals, academics and students. She worked on the major project titled 'Reach and effectiveness of DTH in the Tribal Areas of Himachal Pradesh'. The project was funded by University Grants Commission, New Delhi. She also worked on the translation project of Toyota Foundation, Japan.
Dr Aggarwal has conducted three Refresher Courses for the teachers of the Indian Universities. She has also organized many national, conferences and workshops on the varied topics related to media. She has also published 30 research papers in journals of repute, some of which have been included as articles/chapters in various books. Eighteen scholars have already acquired  PhD under her and nine are still working.
Dr Aggarwal has been a visiting fellow to many universities in the country. She is also associated with University Grants Commission, Union Public Service Commission and many State Commissions for multifarious educational activities.
Breakout Session: Citizen journalism through mobile communication: an approach for crisis communication.
In India although the present penetration level of internet in the country is 12 to 13%, mobile phone access has touched 65 to 75%. Almost 93% of the youth use pre-paid services and 68% of the youth chose their phone models and the brand.
The presentation describes a mobile learning environment, with mobile phone becoming every adolescent's prized possession. The main focus is to explore the possibilities of mobile learning, why this new form of learning may succeed, and opportunities this new way of learning offers in the socio-economic & cultural scene of Indian subcontinent. It will also look into the reasons which would eventually turn mobile phone a learning platform and the benefits associated with this evolving medium. Mobile communications can be beneficial for students from all sections of society at large.