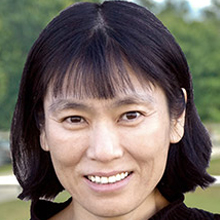 Associate Professor

Nicholson School of Communication, University of Central Florida

United States
Dr. Kimiko Akita is an associate professor in the Nicholson School of Communication at the University of Central Florida, where she teaches international and intercultural communication and a cultural studies honors seminar in manga and anime. Her more than three dozen research articles on gender and cross-cultural issues have appeared in books and journals including Global Media Journal, Women and the Media: Diverse Perspectives, Women and Language, and the Journal of Mass Media Ethics.
In 2012, Dr. Akita published "Tales from the ooku: The Shogun's inner palace and the outer (mediated) world" in a scholarly book and co-authored "The epistemology of retweeting and the ethics of trust" in the Journal of Mass Media Ethics. In 2013, her forthcoming chapters are "Queer male TV commentators: Kinjo-no-obasan in advanced capitalism," "'My little girl': News coverage of an ambiguously sexed athlete and Watsuji's notions of trust and privacy," "A 'vexing implication': Siamese cats and Orientalist mischief-making" and "'Is she a man? Is she a transvestite?' Critiquing the ethics of coverage of intersex athletes."
After graduating from Nanzan Junior College in Japan, Dr. Akita earned a business degree from Mount Mary College in Wisconsin. She earned her master's in Communication-Urban Studies from Michigan State University and her Ph.D. in Communication from Ohio University. Dr. Akita was a dissertation fellow at the Center's for Women's Intercultural Leadership at Saint Mary's College (University of Notre Dame) in Indiana from 2002 to 2005.
2013
Breakout session: Crisis in Cross-Cultural Context: Military Response to and Media Framing of the (Latest) Rape in Okinawa
In October 2012, a Japanese woman on Okinawa accused two U.S. servicemen of raping her as she walked home during the early morning hours. It was the seventh reported rape of an Okinawan by a member of the U.S. military since its return to the island in 1972. The rape called to mind for many the 1995 kidnapping, beating and gang rape of an Okinawan schoolgirl by three U.S. servicemen. Both cases provoked outrage among the Japanese, who have complained bitterly about the 5,747 crimes committed on Okinawa since 1972 by the U.S. military—and about an agreement that protects American servicemen from Japanese jurisdiction. In 1995, the U.S. begrudgingly turned the suspects over to the Japanese. This time, the U.S. State Department moved swiftly to condemn the sailors, yet the Pentagon responded cautiously and without commitment. This study examines cross-cultural crisis communication in response to the 2012 Okinawa rape.
2012
Research panel: Building Trust Among Volunteers in a Crisis: The Case of the Mikuni Oil Spill