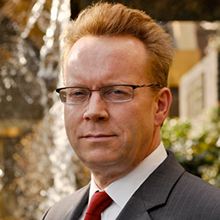 Chief of the Business Continuity Management Unit

United Nations

Canada
Brian joined the United Nations World Food Programme in 1999 after a 14-year career in the Canadian Forces and was appointed to his current position at the United Nations Secretariat in December 2009. While serving in the Canadian Forces he participated in two United Nations peacekeeping missions in the Former Republic of Yugoslavia, which steered him toward his career in the United Nations. During his United Nations career, Brian has served in Sierra Leone, Rome, Italy, Iraq and New York.
Brian started using social media for internal communications, later expanding into communities of practice as a way to collectively develop knowledge and solutions to complex problems. He has recently become a convert of the value of social media for emergency management.
Brian has a Bachelor of Arts from the Royal Military College of Canada and a Master of Public Administration from the University of Western Ontario.
2013
General Session: Now is Too Late: Utilizing Social Media for Situational Awareness
Changing technology, public expectations and the ways in which we interact are setting traditional patterns of communication on a trajectory toward obsolescence. Effectively responding to a complex event requires a continually evolving situational awareness, which is dependent upon the receipt and dissemination of timely and accurate information. In this regard, the ubiquitous availability of smart phones, and the rise of social media, poses challenges and opportunities that can only be managed by taking action in advance.
This presentation will describe the changing context of crisis communication and then review innovative ways in which social media is being used to enhance situational awareness in all phases of crisis management. The presentation will also identify key risks to using social networks for situational awareness and actions to manage them. It will conclude by describing emerging communications approaches and actions that organizations should take in advance to successfully leverage social media for situational awareness.