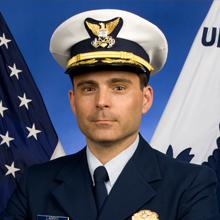 Commanding Officer

Coast Recruiting Command

United States
Captain Ronald LaBrec is a career Coast Guard officer specializing in search and rescue, law enforcement, crisis response and public relations who has served in a variety of roles ashore and at sea. He is currently the commanding officer of Coast Guard Recruiting Command, which attracts, inspires and recruits the service's enlisted workforce and all non-Academy officers. Ron previously oversaw the Coast Guard Office of Public Affairs in Washington, D.C., where he directed strategy, policy, resources and planning for the service's external communication program including media relations, community engagement, web and social media activities and history preservation. During this period he led crisis communication efforts for international events such as the BP Deepwater Horizon Oil Spill response, Coast Guard rescue efforts after the earthquake in Haiti and relief after Midwest flooding and Atlantic hurricanes. Previously Ron ran public affairs for the Coast Guard's Southeast U.S. and Caribbean region and after hurricane Katrina, he deployed to New Orleans and Baton Rouge, La., as the press assistant to Admiral Thad Allen, who served as principal federal official for response and recovery. He has also overseen Coast Guard rescue, security and law enforcement operations in several regions on the East Coast and served on U.S. Coast Guard and Navy vessels around the world.
Ron has a bachelor's degree in government from the United States Coast Guard Academy and a master' s degree in public relations from Boston University.
2013
Breakout session: Gunfire on the Potomac: A Crisis Communication Case Study on when inaccurate reporting creates a crisis in the Post 9/11/01 era.
On the morning of Sept. 11, 2009, President Obama was headed to the Pentagon for a 9/11 memorial ceremony. Unrelated to his travels, several Coast Guard response boats were practicing tactical maneuvers a few miles away on the Potomac River. Overhearing radio communication from the tactical maneuvers, a CNN employee misunderstood the chatter as an indication of a security breach related to the President's movement. The confluence of various issues of speed and accuracy, confirmation vs. speculation and inter-agency coordination in the post 9/11 era combined to create a chaotic crisis situation. Ron LaBrec illuminates this significant case study as an example of how a "flash" speculative crisis can raise questions about professional competence, tarnish the image of the government agencies and expose problematic processes in the press and news media.