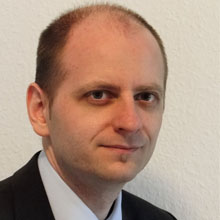 Junior Professor

Munich School of Management, Ludwig-Maximilians-Universität

Germany
Sascha Raithel is Junior Professor of Financial Performance-based Marketing and Management at the Munich School of Management of the Ludwig-Maximilians-Universität (LMU) in Munich, Germany. His primary research areas include the financial value of intangible assets such as corporate reputation and brand equity, corporate social responsibility, and brand crisis management. Before joining LMU he worked as marketing consultant, employed by Pepper GmbH between 2004 and 2009, and was responsible for managing projects funded by multinational firms like HP and Symantec. After his decision to pursue an academic career, has also served as consultant for other established companies like Allianz SE or Bayer AG. His work is published in various books like "Corporate Reputation: Managing Threats and Opportunities" or "Reputation Capital – Building and Maintaining Trust in the 21st century" as well as in academic journals such as the Journal of Marketing Research and the Journal of the Academy of Marketing Science.
Breakout Session: Negative Celebrity Endorser Publicity and Stock Returns: How Critical are Immediate Firm Reactions?
A celebrity endorser is an individual who enjoys public recognition and who uses this recognition on behalf of a consumer good by appearing with it in an advertisement. During the last couple of years, celebrities have been increasingly involved in undesirable and harmful behavior, most recently Tiger Woods and Oscar Pistorius. These incidents ranged from minor severity, such as making inappropriate comments on nationwide television, to serious and illegal actions, such as sexual assault or even accusation of murder. Such celebrity endorser scandals have the potential to evolve into a brand reputation crisis because the negative information could spill over to the endorsed brand and therefore reduce a firm's value. Previous research was predominantly focused on the event's direct impact on financial performance, while the efforts of affected firms to manage this situation and to limit negative spillover effects found less consideration. Crisis management research offers some general rules for potentially successful response strategies, but there is a shortage of rigorous empirical research. This lack of research is alarming because marketing managers are currently left with little evidence-based guidance about when and how to react if unpredictable events occur that could endanger their brands' reputation and, ultimately, firm value.
This presentation discusses a study that incorporates the various firm, endorser, and scandal characteristics as well as the course of events triggered by a celebrity scandal into a unifying framework. This study applies a staged approach, which distinguishes between initial and evolving crisis stages. Previous studies have traditionally been focused only on the initial stage. For example, in the context of product recalls, prior research found that proactive crisis response strategies lead to significantly negative stock returns during the initial stage, but it did not consider subsequent effects during the evolving stage. However, firms' response strategies may have considerable effects on how stakeholders interpret the impact of the scandal on the firm, because more scandal details become public not only on the event day itself, but also on the following days.
The main finding is that firms can successfully counteract the negative long-term financial effects by choosing proactive versus reactive/passive strategies. In other words, it is not the negative event itself that drives the subsequent financial performance, but rather the immediate response of firms. Although investors are at first negatively surprised by immediate firm responses, they subsequently interpret fast and proactive strategies as a good sign of the firm while more details of the scandal are emerging. At the same time, a reactive/passive strategy can endanger a firm's reputation and credibility leading to substantial financial losses in the subsequent weeks. Additional findings highlight the critical importance for firms to react immediately if the main/corporate brand is affected. Further, a good match between the expected and actual firm reaction are also beneficial for the subsequent financial performance. Finally, this presentation discusses some guidelines on how to minimize the financial losses surrounding negative spokesperson publicity.