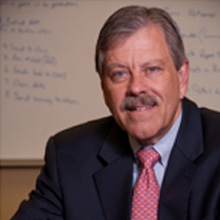 Assistant Dean

College of Medicine, University of South Alabama

United States
Carl is the Assistant Dean of the University of South Alabama College of Medicine, Director of the Center for Strategic Health Innovation (CSHI) and the National Center for Disaster Medical Response. He is also a Founding Partner in Fraser Institute for Health Research, a New Jersey not for profit engaged in quantifying market risk for health insurers and providers. His current focus is in the emerging field of interventional informatics. Carl has been the Principal Investigator on over dozen contracts and grants for disaster preparedness including the operation of the Advanced Regional Response Training Center and the newly created National Center for Disaster Medical Response.
His work includes the development of e-VAST an online hazard vulnerability assessment tool, AIMS the health care situational awareness software now used by over 1,000 health care facilities around the country, and a new online crisis response planning visualization tool which incorporates such diverse resources as Mathematica, Google Earth, and large patient data sets.
Carl serves on the advisory boards of a number of Health 3.0 start-ups, is a member of the New Zealand Health Challenge, a broadband ambassador to the Internet Innovation Alliance in Washington and an advisor to the European Union funded SAVE ME project which is using Second Life to develop the ability to recognize Black Swans and White Whales. In his spare time he works with a Kenyan development team designing and deploying the Xtreme Collaboration Hub. XCH is a Drupal based social network utility for connecting patients and healthcare providers to knowledge in Africa. He is also provides frequent comments and opinions as a part of the Crisis Mappers community.
Carl has provided testimony to committees of the United States Senate, House of Representatives, the Institute of Medicine, and varying agencies on both the future of healthcare and disaster response.
He has published several peer reviewed articles on the role of technology in managing surge capacity in disasters and is the author of a several chapters on medical disaster response
He holds an undergraduate degree from Marshall University and a Juris Doctor from the University of Miami. He is also an associate member of the Society of Actuaries and a member of their work group on medical errors.
2012
Presentation: Surging Trust
2011
Panel: Social Media in Public Health Crises and Disasters
Panel moderated by Jeffery Robertson with panelists Jay Bernhardt and Carl Taylor.