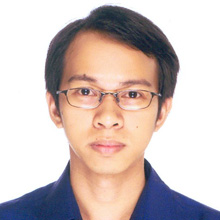 Doctoral Student

Kyoto University

Japan
Glenn Fernandez has a Bachelor's degree in Industrial Engineering from the University of the Philippines – Diliman and a Master's degree in Environmental Management from Kyoto University in Japan. Glenn is currently a second-year PhD student at the Graduate School of Global Environmental Studies of Kyoto University. His doctoral research is mainly on youth participation in community-based disaster risk reduction in urban and rural villages in the Philippines. Since 2010, Glenn has been the team leader of the Environment and Disaster Education Working Group at the International Environment and Disaster Management Laboratory in Kyoto University. Together with other Filipino graduate students in Kyoto, Glenn organized a donation drive in November 2013 for the disaster victims of Super Typhoon Haiyan in Leyte, Philippines, using social media, e-mail and SMS to recruit and coordinate volunteers.
2014
Breakout Session: The Role of Social Media in Disaster Response and Recovery by Youth Organizations in the Philippines *
It has been shown that traditional mass media (print, recordings, cinema, radio, television) cannot meet all of the information sharing and communication needs during disaster recovery. The Internet and mobile communication technologies open many new opportunities for coordination among affected communities, governments, and other stakeholders. In recent years, the use of social media in post-disaster settings has spread around the world. Twitter, Facebook, and new types of social media such as Ushahidi are increasingly being used in collecting information on the needs of local communities. Crowd-sourced platforms like Open Street Map have great potential to accelerate damage estimation, which can be a basis for reconstruction. Wikis, online community forums, blogs, and e-government portals on disaster recovery can create instant feedback loops, increasing the participation of citizens in the response and recovery process. In our presentation, we will pick out and analyze examples of the use of social media in disaster response and recovery by youth organizations (i.e., community-based youth councils, school-based clubs, youth NGOs, etc.) in the Philippines, particularly in knowledge sharing and action planning. We will also discuss challenges such as circulation of unverified information, number of channels, poorly composed messages, lack of confidentiality, etc. and possible ways to overcome these challenges.
*Glenn Fernandez and Rajib Shaw co-authored this paper. Glenn Fernandez will be presenting.