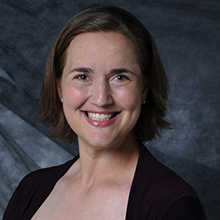 Assistant Professor in Strategic Communications

University of Louisville
Karen Freberg (@kfreberg) is an assistant professor in Strategic Communications at the University of Louisville. In addition to this teaching experience, Freberg has presented at several U.S. and international research conferences, including ones in Australia, Brazil, China, Greece, Italy, Slovenia, Spain, and The Netherlands. Freberg also worked in public relations for Total Media in Cape Town, South Africa in 2007 with clients in the fashion and consumer industry.
Freberg is also a research consultant in social media and crisis communications and has worked with several organizations and agencies such as Firestorm Solutions, Hootsuite, Kentucky Derby Festival, DHS, CDC, National Center for Food Protection and Defense (NCFPD), and the Colorado Ski Association. Freberg's research has been published in several book chapters and in academic journals such as Public Relations Review, Media Psychology Review, Journal of Contingencies and Crisis Management and Health Communication. She also serves on the editorial board for Psychology for Popular Media Culture and Case Studies in Strategic Communication (CSSC).
Before coming to the University of Louisville, Freberg earned a PhD in Communication and Information at the University of Tennessee in May 2011, and a Master's degree in Strategic Public Relations at the Annenberg School for Communication at the University of Southern California in August 2007. Freberg received her Bachelor's of Science degree in Public Relations at the University of Florida in August 2005.
2015
Co-authors

Karen Masullo (Firestorm Solutions)
Kristin Saling, M.S. (US Army) – Collaborator Kristin Saling is unable to attend due to military assignment
Jim Satterfield (Firestorm Solutions)
Karen Freberg, Ph.D. (University of Louisville)
Crisis Message Preference Model: Collaborative efforts from practice and research
Crises are unpredictable, yet are not expected. Each situation has different associated characteristics and factors to them, and while there may be some similarities to these based on whether or not they are created by nature or by human, there are different perceptions of them by the audience.
Crisis communication professionals have explored various ways to measure and analyze how individuals perceive these situations and the crisis messages that come with them, but more exploration into predictive behavior models can help better inform how to best communicate and inform our audiences in a time of crisis. Most existing academic research in crisis communications has focused on evaluating the effectiveness of crisis message strategies through surveys, questionnaires, experiments, and interviews.
However, through the partnership with Hootsuite, Firestorm Solutions, and two researchers in the area of crisis communications, we have initiated a joint collaborative project implementing the Riverside Situational Q-sort (RSQ; Sherman, Nave, & Funder, 2010; Funder et al., 2012) to help determine what these differences in audience perceptions of a crisis situation.
Two situations (workplace violence and natural disaster) were explored to help create the Crisis Preference Message Model. Findings and implications will be explored not only to the crisis literature and field, but also provide a new measurement tool to help practitioners determine the most appropriate and effective message at the right time in the right crisis situation.