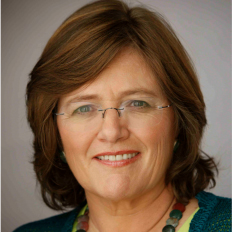 Seismologist

US Geological Survey, Creator and Science Adviser for the Science Application for Risk Reduction (SAFRR) Project

United States of America
Dr. Lucy Jones has been a seismologist with the US Geological Survey and a Visiting Research Associate at the Seismological Laboratory of Caltech since 1983. She is the Science Adviser for Risk Reduction in the Natural Hazards Mission of the US Geological Survey, leading long-term science planning for natural hazards research and the application of hazards science to develop resilience in communities.
Dr. Jones created the SAFRR (Science Application for Risk Reduction) Project to innovate the application of hazards science to protect the safety, security and economic well being of the Nation. Major products of SAFRR include the ShakeOut Earthquake Scenario and the first Great ShakeOut, a public emergency preparedness event with 5 million people in southern California in 2008; the ARkStorm scenario, a model of a great storm in California; and the SAFRR Tsunami Scenario. In 2014, she served in a special assignment as the Mayor's Science Advisor for Seismic Safety for the City of Los Angeles, applying the results of the ShakeOut Scenario to increase the resilience of the City.
Dr. Jones has authored over 100 papers on research seismology with primary interest in earthquake statistics and integrated disaster scenarios, especially in southern California.   She is a member of the Resilient American Roundtable of the National Academy of Sciences, and previously served on the California Earthquake Prediction Evaluation Council, the California Seismic Safety Commission, and the Board on Natural Disasters of the National Research Council. She has received numerous awards, including the Ambassador Award from the American Geophysical Union, Alquist Award from the California Earthquake Safety Foundation, Meritorious Service Award from the Department of the Interior, and the Shoemaker Award for Lifetime Achievements in Science Communication from the USGS.
Dr. Jones received a Bachelor of Arts degree in Chinese Language and Literature, Magna Cum Laude, from Brown University in 1976 and a Ph.D. in geophysics from the Massachusetts Institute of Technology in 1981.  Dr. Jones, a fourth-generation southern Californian, currently lives in Pasadena, California, with her husband, Dr. Egill Hauksson, Research Professor of Geophysics at Caltech.
Delivering and Interpreting Earthquake Information during Crises and Peacetime
This session – co-presented by geophysicist, Prof. Egill Hauksson – focuses on debunking myths and misunderstandings regarding 1) what actually happens in an earthquake, how we know and when we know it, and how we describe it, 2) the communication misunderstandings we strive to correct among various publics (i.e., confusing magnitude and intensity, wanting prediction and hearing non-predictions/forecasting as predictions, misunderstanding temporal patterns) and how films like San Andreas contribute to them, and 3) ways to address these misunderstandings as we move into the brave new world of earthquake early warning.