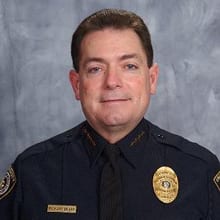 Chief of Police

University of Central Florida

United States
Chief Beary began his law enforcement career in 1977 with the Altamonte Springs Police Department. He worked through the ranks from Communications Operator to Commander of Police Operations.  In 1992, he was appointed Chief of Police for the City of Lake Mary, Florida and served there until retirement after thirty years of municipal service.
On June 29, 2007, he was appointed Chief of Police for the University of Central Florida, Orlando, Florida.  UCF is the largest university in Florida and the 2nd largest in the United States, serving a student population in excess of 58,000.
Chief Beary has received numerous awards from civic and service organizations.  He has twice been awarded the Medal of Valor for Performance Undertaken at Great Personal Hazard as well as other Law Enforcement Awards.
Chief Beary holds a Bachelors degree in Public Affairs from Rollins College, Winter Park, Florida and a Master of Science degree from the University of Central Florida, Orlando, Florida. Chief Beary is a graduate of the 143rd session of the F.B.I. National Academy. Chief Beary serves as an adjunct faculty member at Seminole State College of Florida and has been a certified law enforcement trainer since 1981.
Chief Beary is a member of numerous professional organizations on a State, National and International level.  Chief Beary served as President of the Florida Police Chiefs Association and the Central Florida Criminal Justice Association. Chief Beary is a member of the International Association of Chiefs of Police and was elected as 4th Vice President in 2010.
Chief Beary has provided expert witness testimony before the Florida Legislature and the United States Congress. He has served on numerous focus groups to enhance the delivery of criminal justice system related services.
2014
General Session:  Crisis Management of a Thwarted On-Campus Shooting*
March 18, 2013, a University of Central Florida student killed himself in his residence hall. A subsequent police investigation found hundreds of rounds of ammunition, an assault weapon, homemade explosives and a "to-do" list that indicated the student planned to attack students on campus. Within a period of three days, UCF received about 1,500 media inquiries. Richard Beary, UCF Chief of Police, and Grant J. Heston, UCF Associate Vice President for Communications and Public Affairs, will discuss insights and lessons learned from the incident, as well as how to balance sometimes conflicting police and communications priorities.
*Grant Heston and Chief Richard Beary will be co-presenting this session.