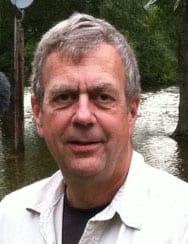 freelance journalist and TV producer

NBC, ABC and CBS and The Weather Channel
Ron Blome is a freelance journalist and TV producer who works on a national level for network news organizations including, NBC, ABC and CBS and the Weather Channel.  Ron is also a documentary producer who has received many awards including a George Foster Peabody award for a series of documentaries on Teenage Pregnancies in Arkansas.  Most recently Ron was awarded a Golden Addy Award by the Arkansas Advertising Federation for a 2008 documentary celebrating the 75th Anniversary of the Arkansas State Parks Systems.
Drawing on his skills and observations from covering national disasters, Ron is also
an instructor in Crisis Communications for the Arkansas Department of Health and the University of Arkansas at Little Rock. While covering these events, Ron has made a study of the interaction between the press and those at the center of the coverage.  From these observations and lessons – learned Ron has developed a succinct lesson plan to teach public officials, first responder and businessmen how to properly interact when the media invasion arrives at their doorstep.
Ron Blome is also President of Ron Blome Productions, specializing in live news production as well as freelance documentary and feature video production house. Among  recent projects are a Documentary for Arkansas State Parks tracing the creation and mission of the Arkansas State Park system of 52 parks.  This documentary earned Ron the National Association of State Park Directors Park History Award.
From 1997 to 2008 Ron worked as a National Correspondent and Producer for MSNBC.
From 2009 to present Ron works as a Correspondent/Producer for the Weather Channel covering major storm events and disasters.
Ron is also a Crisis Communications trainer for the Arkansas Department of Health.