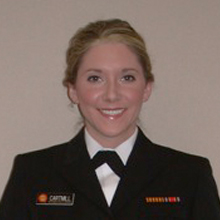 Consumer Safety Officer

Investigations Branch, Florida District Food and Drug Administration

United States
LCDR Leslie A. Cartmill is a native of Louisville, Kentucky.  She received a B.S. in Environmental Health Science from Eastern Kentucky University and is a current graduate student at the University of South Florida, School of Public Health.  LCDR Cartmill is a Registered Environmental Health Specialist and serves as an Environmental Health Officer in the U.S. Public Health Service.  Since becoming a Consumer Safety Officer at the U.S. Food and Drug Administration in 2003, LCDR Cartmill has conducted both domestic and foreign inspections of manufacturers to ensure FDA-regulated products are safe and effective for U.S. consumers.  As a food specialist for the FDA Florida District, LCDR Cartmill's current investigational responsibilities are primarily related to foods, including areas such as Good Manufacturing Practices, Produce Safety, and Juice/Seafood HACCP.  She also coordinates veterinary medicine work for the FDA Florida District related to medicated animal feeds, Bovine Spongiform Encephalopathy (mad cow disease), and illegal drug residues in meat and poultry.