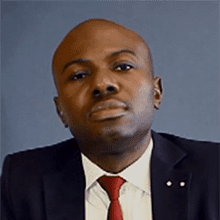 Founder, InstaCare.NG

HaltEbo.la

Nigeria
Michael Chukwunonimem Ike
Michael has practical understanding of the delicate nature of crisis and risk communication; demonstrated in his latest innovative idea called HaltEbo.la – a digital platform that aims to use voice education to effect behavioural changes in the fight against Ebola.
In the past few months as the Founder of InstaCare.NG, Michael has gained deep, practical insights into the reality of business environment in an emerging economy; especially the delicate interplay between the private sector, academia, Government and civil society. From envisioning a technology product that is set to revolutionize the healthcare delivery, Michael learnt to patiently navigate regulatory bureaucracies while retaining the agility and focus required to keep a team motivated and, constantly refining the product based on real-time stakeholder feedback.
Michael has come to subscribe that it is possible to simultaneously deliver financial returns and make social impact as a profit-oriented, socially conscious entrepreneur.
Earlier in his career, Michael developed a 3rd Party ATM application, CashForMe, which piloted how a 3rd party can help one withdraw money from the ATM without one disclosing PIN.
Michael holds an MBA in Entrepreneurship as well as Certificate in Entrepreneurial Management.
2015
Background
Everyone is concerned that despite concerted efforts to contain this latest outbreak of Ebola in West Africa, its spread continues. Ebola outbreak has led to disruptions in normal flow of activities, lifestyles and relationships at individual level through families to communities and countries. It has put additional strain on travelers, closed some tourist destinations and denied many of livelihoods and life itself.
The Idea
HaltEbo.la is digital platform that uses voice technologies to connect rural communities to information, expertise and practices on Ebola. The focus is on rural communities due to the fact that this demography constitutes about 80% of populations in the most affected countries in West Africa. This puts at risk about 209 million people in Guinea, Liberia, Sierra Leone, Senegal, Mali and Nigeria.
In all, we found that three key factors conspire to thwart global efforts in containing this deadly disease. They are:
Very poor doctor-patient ratio in Sub-Saharan Africa especially Liberia and Sierra Leone whose infrastructure were weakened by the civil wars.
Ignorance prevalent among the most vulnerable demography: rural communities who have little access to online information.
Belief system and practices by value chain actors which increases risk of infection.
From the foregoing, it dawned on our team that while researchers are developing vaccines for Ebola, its spread can also be contained by using technology to address the three key factors mentioned above; especially the belief system and practices. Experience from Nigeria reveals that information dissemination and adjustment in practices made Nigeria contain Ebola to the level that World Health Organization declared it Ebola free.
Our team designed a two-pronged approach: first, to use toll-free information desk to receive and respond to enquiries in local languages, gathering information firsthand. Second, to leverage religious leaders and community influencers to record specific messages to be relayed periodically via robocall.
The idea is to use toll-free information desk combined with robocall in local languages thereby, breaking down the barrier at two levels: removing suspicion and increasing willingness of the local population to adjust for the better.
Potential For Impact
HaltEbo.la is envisaged to have tremendous impact on the Ebola response because our model reduces human contact. It leverages the voices of already-trusted leaders and influencers to capture the attention of the population and convince them to change habits and practices. Finally, it extends the scarce healthcare expertise by rapidly building up local capacity to act in the little, everyday ways that helped Nigerians a lot during the days they battled Ebola.
Conclusion
Ultimately, we are convinced that in using our platform that leverages mobile phones to inform and educate people ignorance as well as habits and practices that fuel the spread of Ebola will be dealt with, headlong. In joining hands with us, we will be able to Halt!Ebola