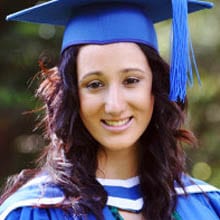 Honours Candidate

University of Wollongong

Australia
Sherien Khachiche, is a 2011 graduand from the University of Wollongong, Australia. She completed a Bachelor of Information and Communication Technology Honours, majoring in E‐ business Management. Supervised by Dr. Katina Michael, her Honours thesis topic was "The Business Ethics of Online Social Networking in Human Resource Management Practices; recruiting and retaining employees in Australia". Presenting at her first conference, Sherien's research strength and focus is business ethics and their contribution to social media use in organisations. Her research thesis on the privacy and legal issues surrounding the use of social media sites such as Facebook in the human resource management processes of recruiting, retaining and terminating employees.
She is working towards completing her Master of Project Management – Master of International Business, and will be commencing her Doctor of Philosophy in 2014. She currently holds the position of Domestic Admissions Officer with UniAdvice at the University of Wollongong, ITC Limited. Privy to this she was a Customer Service Assistance in the Coles Group. Together, she also holds 8 ongoing years of customer service experience. Throughout her education, Sherien has also completed an internship with IBM Australia and has worked as a volunteer member for the Kidz Wish Foundation Australia.
2012
Research Presentation: The Business Ethics of Online Social Networking in Human Resource Management Practices: Recruitment and Retention in Australia