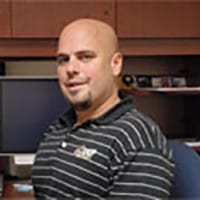 Endowed Welch-Bridgewater Chair of Sports Media

School of Media and Strategic Communications at Oklahoma State University

United States
Dr. Edward (Ted) M. Kian is the Endowed Welch-Bridgewater Chair of Sports Media in the School of Media and Strategic Communications at Oklahoma State University, where he coordinates and directs all three specializations of the largest, stand-alone undergraduate Sports Media major in the world. For more info on the OSU Sports Media programs please visit: http://sportsmedia.okstate.edu
Dr. Kian has 15 years of professional, industry experience in sport communications, working in newspapers, magazines, media relations, Internet sites, and radio. His research focuses on sport media, specifically examining areas such as portrayals of gender and LGBT in content, new media, attitudes and experiences of sport media members, and marketing of sport. Dr. Kian has authored more than 65 journal articles, conference papers, and book chapters. He guest-edited a special issue of the International Journal of Sport Communication and has reviewed more than 70 submissions for 22 different academic journals as an editorial-board member or ad-hoc reviewer. Outlets such as 60 Minutes, Fox Sports, and the Nieman Journalism Lab at Harvard University have cited his research, journalism, or expertise.
2015
Examining the Crisis Communication Failures of Roger Goodell, the National Football League and the Baltimore Ravens Franchise on Ray Rice Assault Case
Never in the history of American sports has a professional association been as popular, powerful, or wealthy as the National Football League is right now.
NFL television ratings keep increasing. Through November 2014, the 11 most-watched fall television shows in the U.S. were all regular-season NFL games (Rovell, 2014). Super Bowls account for the 21 most watched televisions broadcasts in U.S. history.
Unlike all other American sports and sport leagues, NFL fandom cuts across race, gender, socio-economic class, educational level, and geographic regions (ESPN Research, 2014). Accordingly, the NFL makes roughly $7 billion annually from television contracts with CBS, DirectTV, ESPN, Fox, and NBC (Katzowitz, 2014).
However, the NFL's brand and long-term sustainability have been recently challenged through increased media attention on the long-term health effects of concussions in football and especially the NFL's domestic-violence problem, which was magnified by the handling of the Ray Rice assault case.
This case study uses existing scholarship on sport communication in an analysis of the mishaps of the Rice assault story, with particular focus on the PR tactics used by NFL commissioner Roger Goodell, the NFL, and Rice's then-employer, the Baltimore Ravens, during or after the following key events (Bien, 2014):
Feb. 15: Arrest of Rice for assault charges on then-girlfriend (and current wife) Janay Palmer
Feb 19: TMZ publication of video of Rice dragging an unconscious Palmer from a hotel elevator.
Feb. 24: Public comments by Ravens owner Steve Biscotti supporting Rice
March 26: Initial comments by Goodell on Rice
March 27-May 21: Legal proceedings against Rice
May 23: Press conference by Rice and his new wife held at the Ravens' complex
July 24: Rice's 2-game suspension levied by NFL
Aug. 28: NFL admits failures, and announces new domestic violence policy
Sept. 8: TMZ releases complete video of elevator assault, in which Rice knocks his then-girlfriend to the floor and unconscious with one punch to the face
Sept. 8: Ravens release Rice, with comments from coach John Harbaugh; NFL suspends Rice indefinitely.
Sept. 8-9, NFL and Goodell claim they did not see full video
Sept. 9: Biscotti apologizes for team's response
Sept. 10: Associated Press reports the NFL office was sent the elevator video in April.
Sept. 10: Amid increasingly media calls for his ouster, Goodell said he will never resign
Sept. 10: NFL announces independent investigation of their handling of Rice case.
Sept. 19: Goodell holds a poorly received press conference on his handling of Rice, which followed his 1-1 interview with Norah O'Donnell the previous week.
Nov. 30: NFL agrees to revise player-conduct rules, which previously made Goodell the sole decider on discipline and appeals.
Responses and framing from prominent sport journalists of these events – and any others on the Rice assault case that emerge before the conference – will be discussed in relation to practices and strategies in the emerging realm of sport crisis communication. Best practices will be formulated, with particular focus on the impact and influence of social media on crisis communication.