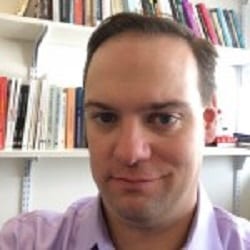 Associate Professor of Communication

University of Connecticut
Kenneth Lachlan (PhD, Michigan State University, 2003) is Associate Professor of Communication at the University of Connecticut, and Editor of Communication Studies. He also holds affiliations with UConn's Center for Health Intervention and Prevention, and the Communication and Social Robotics Laboratory at Western Michigan University. Prior to his appointment at UConn, Ken was the Founding Chair of the Communication Department at the University of Massachusetts Boston. His research explores real world information seeking patterns and psychological responses to crisis and health messages from people under extreme duress. His recent work has explored the ways in which mediated risk messages are received and processed through interactive technologies. Recent publications have used laboratory experiments to examine health risk message source credibility across avatars of varying ethnicities. He has also published numerous recent studies examining the media use and responses associated with Twitter hashtags during natural disasters, as well as the best practices in collecting and analyzing data in these contexts. Ken was identified in a recent citation analysis as ranking in the top 1% of the field in publications in central journals between 2007 and 2011. He also serves on the editorial boards of Communication Quarterly, Communication Reports, and Communication Research Reports.
Twitter use by affected publics during crises and disasters: What we know from recent research and considerations for emergency response
This session will synthesize recent findings by multiple research teams concerning Twitter use by those affected by crises, emergencies, and natural disasters, and the ways in which this knowledge may inform responses to these events and mitigation against further harm. The presentation will address concerns related to patterns of serial transmission in Twitter chatter, the effectiveness of varying search and retrieval strategies in locating actionable information, information overload, the balance between affective and informational content, and the role of issue involvement in message processing. It will also address temporal differences in the crisis lifecycle, and how this may impact both the nature of Twitter content and the strategies that emergency responders can use to inform and motivate. It concludes by offering suggestions for the specific factors that must be taken into consideration when quickly deploying a social media strategy to manage developing and uncertain crises.
Learning Objectives:
Implementing successful hashtag campaigns for local and widespread events
Understanding how to use Twitter to appeal to those experiencing varying degrees of threat
Evaluating what Twitter content strategies work best across the crisis lifecycle
v