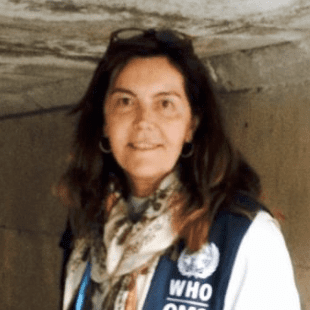 Communication Consultant

D4D Institute

Iraq
Rosane Lopes, Ph.D, A.B.D. is a communication consultant at D4D Institute and the World Health Organization, Erbil/Iraq office where she works with Cholera outbreak in IDP end Refugee Camps. Originally from Brazil, she has worked in several risk situations, including the earthquake in Haiti, H1N1 in Latin America, and rains and flooding in Brazil. She has a master's degree in Risk Communication with focus in Social Mobilization. Rosane has over 15 years of risk communication experience with organizations of the United Nations WHO, FAO, WB and UNISDR. She has also worked with schools to prepare for crisis situations and with private initiatives to boost resilience. Her specializations include: risk communication, C4D, social mobilization, outbreaks, government relations, public relations, communication training, media relations and advocacy strategy.
Communication of Risk and Risks of Incommunication ( no communication)
Risk is present in contemporary societies and postindustrial. The theme of risk communication, risk management has become a vital issue, and numerous authors have analyzed the features of the new global society. Discussions on risk communication entering the corporate agenda of companies and institutions allow us to observe the tensions and ambiguities. On the one hand, there is the need to inform the public on the other, concern about the controversy that disclosure of certain information to generate. This presentation aims to make an analysis of the notion of risk today, their relationship to the dominant discourses of legitimacy actions taken by companies and governments and ownership by members of our society. Even if you can see that "The Risk Communication" contains itself coercive elements and control, "the Risk Incommunication" can have catastrophic consequences on the social organization.
This session will address an overview of the concept of risk society, seeking to establish correlations between the risk society and the issues faced by public health situations such as epidemics or disasters like the recent earthquake in Haiti and H1N1 and Cholera in Iraq with the problem of refugee camps.