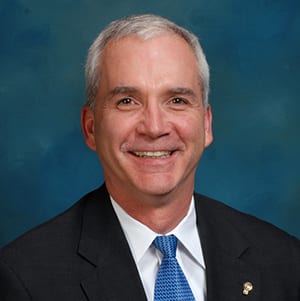 CBCP

University of Georgia SBDC
Mr. Lupo joined The University of Georgia Small Business Development Center in Columbus in 2005 as a Business Consultant and was promoted to Area Director for the Columbus office in July of 2012. He earned his undergraduate Bachelors of Science from Auburn University in 1987 and his Master in Business Administration from Brenau University in 1990. He served with the U.S. Army 5th Special Forces Group at Fort Bragg, NC during the 1980's as the medical supervisor for an "A" detachment, with a language specialty of Turkish. He served in both the Middle East and Europe and was deployed during Operation Desert Shield/ Desert Storm in 1990 and 1991. He is a certified Facilitator for the FastTrac® GrowthVenture™ course and is a Certified Business Continuity Professional (CBCP), accredited through the Disaster Recovery Institute International (DRII) in 2009. Mr. Lupo graduated from the Alabama Law Enforcement Academy in Birmingham in May of 2011 as an APOST certified law enforcement officer for Alabama. He has served with the Russell County Sheriff's Office as a Reserve Deputy since 2009 and was elected as President of the Alabama Sheriff's Reserve Association for 2014-2015. Mr. Lupo specializes in assisting businesses in developing emergency preparedness and business continuity plans. He has a passion for working with entrepreneurs and small business, helping others successfully identify the path, and the resources, needed to develop a successful, profitable, and prepared business.
2015
Challenging the Why of Small Business Preparedness

Why is it that so few small businesses prepare for emergencies? Or is that even the right question…? Maybe a better question would be, Why do so few small businesses focus on preparedness in response to the avalanche of messages prompting them to do so? This session will explore and challenge the premise that the breakdown is with the business owner not wanting to prepare and more so with the way in which the message of preparedness is structured. Currently, the predominant message within the preparedness effort seems to be, "Either develop a preparedness plan or your business will probably not survive the next disaster". Though this message is statistically true, the message itself is based on inciting a fear response from the receiver (i.e. If you don't follow this advice, something bad is going to happen). The facilitator will combine the works of noted authors Malcolm Gladwell (The Tipping Point) and Simon Sinek (Start With Why) and show how the ideas from these two authors can guide organizations to modify their current messaging to private sector entities, leading to an increase in implementation of preparedness planning. The facilitator will explore participant best practices and current/past experiences and thoughts with the participants.
Learning Objectives:
The participants will understand Malcolm Gladwell's model of The Tipping Point (The Law of the Few, The 'Stickiness Factor', and the Power of Context) and how this concept can be applied to building a more effective preparedness 'call to action'.
The participants will understand the relevance of Simon Sinek's concept of The Golden Circle, its application to the Law of Diffusion of Innovation and how this model can be used within the preparedness
The participants will discuss and be able to identify at least three new message structures to increase preparedness efforts in private sector