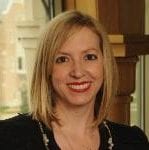 Associate Teaching Professor

University of Notre Dame
Dr. Amanda G. McKendree teaches corporate communication, management writing, management speaking, and business communication at the University of Notre Dame, where she is an Associate Teaching Professor of Management and the Arthur F. and Mary J. O'Neil Director of the Fanning Center for Business Communication. She is published in the SAGE Encyclopedia of Identity, Business Communication Quarterly, Teaching Ideas for the Basic Communication Course, Journal of the Association for Communication Administration, and Review of Communication. She is the coauthor of Conflict Between Persons: The Origins of Leadership.
The Power & Limits of Metaphor: Bridging Knowledge Gaps in Crisis Communication
This presentation examines how metaphors create understanding of a crisis and cautions against invoking metaphors unreflectively without recognizing cultural differences and the historical moment. This unreflective engagement of metaphors can be the source of a crisis, exacerbate a crisis that has already occurred, or stifle crisis response efforts.