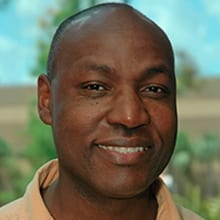 Associate Professor

Nicholson School of Communication, University of Central Florida

United States
Dr. George W. Musambira has a Ph.D from the University at Buffalo. He is an associate professor in the Nicholson School of Communication, University of Central Florida and also a fellow at the Institute of African Communication Studies (IACS) at UCF. His research interests include the role of new communication and information technology in Africa, communication and bereavement and communication academic research productivity. He has published in over ten different refereed journals, including Journal of Intercultural Communication, Journal of Intercultural Communication Research, Journalism and Mass Communication Educator, Communication and Medicine, Communication Education, and Journal of Technology and Human Services.
2013
Breakout session: Monitoring and Reporting Ebola and Marburg Virus Outbreaks in Uganda: How NICTs are Turning the Tide in the Management of Epidemics*
Uganda has, so far, endured three major waves of the Ebola virus and one Marburg virus outbreaks. Each succeeding wave of the outbreak has met with greater effectiveness of containment. Since 2000, the deadly and highly infectious Ebola Virus which is associated with hemorrhagic fevers and other fatal symptoms has claimed over 300 lives. Closely related to Ebola, is the rare Marburg virus that broke out in Uganda in October 2012 killing five people. There is no cure or vaccine for the deadly and highly infectious Ebola and Marburg viruses. This presentation focuses on the role of New Information Communication Technologies (NICTs) in these efforts. The presentation offers analysis for application, potential and lessons learned.
*George W. Musambira and Samuel Muwanguzi co-authored this paper. George W. Musambira presented.