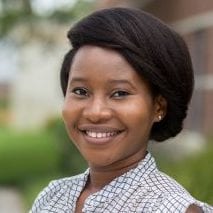 Graduate Teaching Associate

University of Central Florida
Cynthia Nnagboro is a graduate teaching associate in the Nicholson School of Communication. She is pursuing a Master's Degree in Interpersonal Communication and is expected to graduate in May 2018. She has a Bachelor's degree in Mass Communication and hopes to obtain a Ph.D in Communication after graduating from the Nicholson School of Communication. Her current research interests include instructional communication, relationship communication and, women's studies.
Pop Culture Portraying Pandemonium: Investigating Rule-Breaking Behavior in Contagion
This poster evaluates Contagion from a dramatistic perspective that emphasizes the various rule-breaking behaviors depicted, as individuals were doing anything to survive during this crisis. Implications of future pandemic diseases such as the Zika virus outbreak, and how individuals reacted, are addressed.