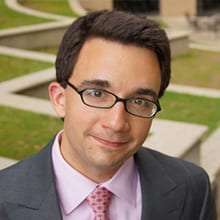 Law Student

University of Pennsylvania Law School

United States
Stan Polit is a nationally recognized public speaker, coach and crisis communication scholar. He was a three time collegiate national champion public speaker and coach of the George Mason University speech team. He is currently pursuing a law degree from the University of Pennsylvania Law School.
Stan's research focuses on the ways in which organizations and leaders use audience-centered messages seeking to repair their image during a crisis. He has presented his research at national  and international conferences including the National Communication Association's (NCA) national convention and the Disaster Recovery Journal's (DRJ) World Business Continuity Conference.
2013
General Session: When "Crisis" Becomes the Norm: Image Repair Strategies for Today's Merged Media
Crises by nature are unexpected. However, what happens when crises seem so prevalent that they essentially become the "new normal?" Using new media research, this presentation explores how an unprecedented increase in crisis news is allowing media outlets to gain credibility by undermining trust in corporations and their leaders. To counteract this flooding of crisis news, corporate crisis communicators must think beyond "communicating" and find new ways to educate the public, market crisis solutions as products and gain credibility through communicating with regulatory adversaries.