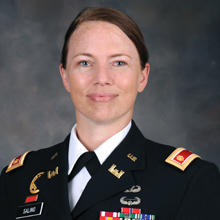 Major (O-4)

Army

United States
MAJ Kristin Saling is an operations research analyst in the Strength Analysis and Forecasting Division of the Headquarters Department of the Army G-1 Personnel Office. She applies both computational and strategic analytical techniques to problems involving large data sets as well as providing analytical advice to the Army's manning strategy. She has presented at several U.S. and international research conferences and has published her work in academic journals such as Systems Engineering and International Transactions on Operations Research.
She served previously as a strategic analyst at U.S. Pacific Command (PACOM) providing analysis to commanders on the execution of theater campaign activities and crisis management, to include humanitarian operations in the Philippines, Thailand, and Nepal. She has also served as an assistant professor of Systems Engineering at the United States Military Academy (USMA) at West Point.
She earned a Master of Science in Systems Engineering from the University of Virginia, a Master of Science in Engineering Management from the Missouri University of Science and Technology, and a Bachelor of Science in Operations Research from USMA. She has nearly sixteen years of experience in the Army and has led and participated in planning and analysis in cooperation with thirteen ally and partner nations.