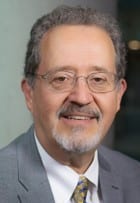 Professor

George Washington University

United States
Professor of Global Health at the GWU School of Public Health. He is a medical doctor and environmental epidemiologist, working on chronic diseases, equity and developing public health systems. He was Dean of the School of Public Health of Mexico, Director General of the Health Environment and Work Institute. For 10 years he was Director General for Regulation, Development and Health Promotion at Mexico´s Ministry of Health. He was Acting Director for Noncommunicable diseases at the Pan American Health Organization. He was the Principal Investigator for the Ascertainment of the Estimated Excess Mortality from Hurricane María in Puerto Rico.
Assessing the Communication Information Environment following Hurricane Maria
We reviewed official releases and media coverage. We found a lack of emergency risk communication training of spokespeople and limited use of subject experts. Official messages were questioned by contradictory public official statements. Deficient explanation indirect deaths counts added to the confusion and perception of inadequate government response.