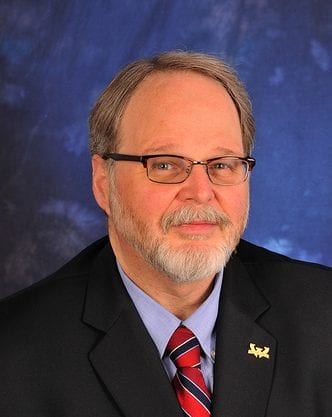 2019 ICRCC Bridge Award for Excellence in Strategic Communication Research Recipient

Wayne State University
Matthew W. Seeger, (Ph.D., 1982, Indiana University) has been a faculty member and administrator at Wayne State University for 34 years. He is currently Dean of the College of Fine, Performing and Communication Arts. Dean Seeger's research concerns crisis and risk communication, health promotion and communication, crisis response and agency coordination, the role of media, including new media, crisis and communication ethics, failure of complex systems and post-crisis renewal.
He has worked with the United States Centers for Disease Control and Prevention for more than a decade. He has worked with the National Center for Food Protection and Defense, the International Food Information Council and with the Food and Drug Administration on issues of food safety and recalls. His work on issues of food and water safety, including his best practices model, has been used by a number of organizations and agencies. Seeger is also a member of the World Health Organization Guidelines Development Group for Emergency Risk Communication. He has consulted with several Fortune 500 firms on crisis management planning and response. His work has been supported by the CDC, NCFPD, NSF, NIH and the State of Michigan with over $6 million in extramural funding.
His work has appeared in more than 100 peer reviewed articles and book chapters including the Handbook of Crisis and Risk Communication, International Encyclopedia of Communication, Journal of Health Communication Research, Health Promotion Practice, Communication Monographs, International Journal of Crisis and Contingency Management, Communication Yearbook, the Handbook of Public Relations, Handbook of Applied Communication Research, Communication Monographs, Public Relations Review, Communication Studies, the Southern Communication Journal, Journal of Business Ethics, Journal of Business Communication, Management Communication Quarterly, the Journal of Applied Communication Research, and the Journal of Organizational Change Management, among several others.
Seeger is the author or co-author of eight books most focusing on crisis and risk communication, including Communication and Organizational Crisis (2003), Crisis Communication and the Public Health (2008), Effective Crisis Communication (2007), Effective Risk Communication (2009), Theorizing Crisis Communication (2014), Crisis and Emergency Risk Communication (Second Edition, 2015), Narratives of Crisis: Stories of Ruin and Renewal (2016) and the International Handbook of Crisis Communication (2016).  He is currently completing Best Practices in Crisis and Emergency Risk Communication. He was the founding editor of the The Journal of International Crisis and Risk Communication Research (JICRCR).
He has advised over 40 doctoral dissertations.
Building Global Emergency Risk Communication Capacity: The WHO Guideline Development Project
"During recent decades, there has been a huge increase in international travel and trade, and populations have become more mobile, meaning that diseases can more easily cross national borders. The increasing use of the internet and mobile telephones has, in many parts of the world, transformed the way people communicate. People are confronted with health advice from multiple sources, and it can be difficult to determine which are credible and based on scientific evidence.
The Ebola Virus Disease (EVD) outbreak in West Africa and other public health emergencies and humanitarian crises around the world have highlighted enormous challenges in communicating risk to affected populations. They have underscored the barriers faced by national authorities, civil society, and international agencies when they need to communicate rapidly and effectively during such events.
Risk communication is one of the eight core functions that WHO Member States must fulfil as signatories to the International Health Regulations (2005). Risk communication is also a component of global and country preparedness for an influenza pandemic as part of the Pandemic Influenza Preparedness (PIP) Framework.
While principles, good practices and training programmes already exist in the field of risk communication, there is no single, comprehensive, evidence-based, up-to-date, systems-focused WHO guidance for Member States in this area.
In order to address this gap, WHO is embarking on project to develop guidance on emergency risk communication. The guidance is expected to cover: 1) communicating during public health emergencies; and 2) building and sustaining local capacity."
Crisis Narratives: Stories of Ruin and Renewal
Humans are by nature story-tellers and stories of crises and disasters are fundamental to the process of understanding and making sense of these events, determining what happened and should be done, and passing on the lessons learned. Crises and disasters create high levels of uncertainty, confusion, and emotional turmoil. Disruption of spaces, networks, sources or information, routines, security and relationships can result in a fundamental loss of meaning.
Narrative, telling – sharing – remembering stories, is a fundamental process of human sensemaking that is essential to recreating meaning. Several kinds of crisis narratives can be identified, including accounts, hero and victim stories, blame narratives, and renewal narratives. These stories are presented and passed on as a kind of learning and memorializing and there is convergence and divergence as different groups seek to have their stories accepted.
Convergence of stories about a crisis helps determine the culturally accepted meaning and ultimately influence what actions are taken in response.