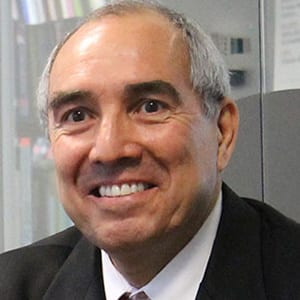 Professor

School of Journalism & Mass Communication, Kent State University

United States
Federico Subervi, Ph.D., is a researcher and scholar on Latino media and audiences. Before joining the JMC faculty at Kent State University in fall 2013, Subervi served as professor and director of the Center for the Study of Latino Media & Markets at the School of Journalism and Mass Communication at Texas State University in San Marcos, Texas, where his research and teaching focus was on exploring the relationship of ethnic minorities to the mass media, especially the Latino community.
He is the editor and author of The Mass Media and Latino Politics: Studies of U.S. Media Content, Campaign Strategies and Survey Research: 1984-2004, along with more than 25 book chapters, more than 20 journal articles and more than 15 independent reports.
Subervi has held other distinguished academic positions such as associate professor and graduate advisor, Department of Radio-TV-Film, University of Texas at Austin, and assistant professor at the University of California at Santa Barbara. and he has also taught abroad as a visiting professor at several distinguished universities. In 1988-89 he was a Fulbright Research Scholar in Brazil, and in 2011 a Fulbright Latin American Specialist in Chile.
Throughout his career, Subervi has obtained many research grants, obtained from the Ford Foundation, the McCormick Foundation, the Kaiser Family Foundation, among others.
Subervi is an active member of the Association for Education in Journalism and Mass Communication, serves on the Task Force on AEJMC in the Global Century, and previously chaired the Task Force on Latino/Latin American Outreach, the Minorities and Communication Division and the Commission on the Status of Minorities. He serves as Vice-Chair of the Ethnicity, Race in the Media Division of the International Communication Association.
Pre-Conference Workshop (Monday March 2, 1-5 p.m., UCF Student Union, 3rd Floor):
"Emergency Communication Effectiveness" – Robert C. Chandler, PhD, Nicholson School of Communication, UCF 
Features discussion on Multi-language Emergency Alerting Issues, to include co-presenters:
Federico Subervi, Professor, Kent State University, Ohio, USA
Arlyn Rivera-Elizée Multi-language Messaging Expert; Sr. Vice President, Access Consulting, Washington, DC, USA
Tony Morejon, Hispanic Affairs Liaison, Hillsborough County, Florida, USA
Katie Coronado, Instructor, Radio-Television, Nicholson School of Communication, University of Central Florida, Orlando, Florida, USA
The capability to provide effective, appropriate disaster alerts during major, sudden or logistically complex disasters involves prior advance planning to ensure that notifications can be delivered and understood rapidly and effectively by diverse audiences, and by individuals who will be experiencing heightened or prolonged stress.
This presentation outlines the stages of crisis and the crisis-stress factor, which may significantly impact human cognitive functioning. Types of specific informational needs at each crisis stage will also be outlined, and other considerations for effective message construction and delivery will be discussed. The phenomena of "first language reversion during crisis," reported by a number of bilingual or multilingual individuals who have experienced crisis stress, will be recounted.
In the U.S. citizenry, growing multilanguage populations, including those with limited English proficiency, challenge the feasibility of providing effective emergency alerts during major widespread disasters. Recent crises such as Hurricane Sandy and other disasters have shown significant vulnerabilities in this area, in terms of effectively reaching all audiences with proper messages, especially when individuals become displaced, power is lost, and crucial messages simply must be received and understood.
Crisis and risk communication professionals such as public service providers, national and local broadcast professionals, and legal experts weighed in with the Federal Communication Commission earlier this year with concerns and issues on this complex topic, initially raised as a result of tragic implications during Hurricane Katrina.  Many questions and challenges remain.
Appropriate language and vocabulary choice, as well as possible cultural contexts will be shared, along with several other foundational strategy suggestions for creating better emergency messages.
Participants in this workshop will form case study-based discussion groups, wherein they will collaborate regarding what tools and techniques they use, under which conditions, in order to effectively analyze audience demographics, prepare messaging strategy, and otherwise optimize their emergency messaging communication effectiveness.
2015
Assessing a University's Emergency Communication Policies for Its Vulnerable Populations: Not Good News at Kent State (Tuesday, March 3rd, 11:25 – 11:55, Sand Key)
The presentation will offer a summary of the case study of the emergency communication policies and procedures currently used at Kent State University to communicate during emergencies with the most vulnerable segments of the campus' population: limited-English speaking students, handicapped, and children. Data show many shortcomings, especially in the University's policy to outsource to third parties the communication flows in any other language, especially given that the outsourced entities themselves have limited personnel to offer timely transmission of critical information.
2011
Research Presentation: An Achilles Heel in Emergency Communications: The Deplorable Policies and Practices Pertaining to Non English Speaking Populations