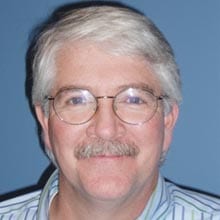 Director, Preparedness Training

Center for Strategic Health Innovation, University of South Alabama

United States
David Wallace, DVM, has 25 years of experience in Public Health, Emergency Preparedness, and Disaster Response. Trained as a Veterinarian, Dr. Wallace joined the USAF in 1987 as a Public Health, Readiness and Mobility Officer, after five years of active duty moved to the Mobile County Health Department in 1992 and served as the Emergency Preparedness Coordinator. In 2003 Dr. Wallace became the Director of Preparedness Training, Center for Strategic Health Innovation at the University of South Alabama. The Advanced Regional Response Training Center (ARRTC) has been extremely successful, training over 7,000 healthcare professionals in the state of Alabama. The department's programs have received state, regional, national and international recognition, and have recently been awarded/renamed the National Center for Disaster Medical Response (NCDMR).
2014
Plenary: The Human Element of Surge Capacity and Resource Management: The Healthcare Approach to Effective Communication and Relationships
During the five-year Hospital Preparedness Program project, states are developing geographically clustered alliances of healthcare facilities called Healthcare Coalitions. These coalitions are communication networks that provide a means to share and disseminate information and aid in coordination of response. They are also vital communication and information management systems. These coalitions plan, train, exercise, respond, communicate and share resources. A key factor is the establishment and maintenance of communication relationships. These alliances build off of and enhance relationships that have existed for years. This presentation will examine how these coalitions function before and during a crisis event.