The Committee is a documentary film about the little-known Florida Legislative Investigative Committee of the State Legislature from 1956-1965. Florida Senator Charley Johns chaired the committee, and its aim was to root out communist and homosexual teachers and students from state universities. It was successful in either firing or expelling more than 200 suspected gay and lesbian citizens. The film features two survivors (Rev. Ruth Jensen-Forbell and Chuck Woods) and one interrogator (John Tileston) who have never before spoken publicly about their experiences without anonymity. It culminates in a 50-year reunion between survivor and interrogator, and a same-sex wedding in Duval County, Florida in April 2015 following the January 2015 Supreme Court ruling legalizing same-sex marriage.
The Committee has screened in film festivals all over the world and continues to air on public television stations across the US as part of the American Public Television Exchange. In fall of 2014 it was awarded a Suncoast Regional Emmy for Best Historical Documentary. It continues to air on local public television stations through national distribution with American Public Television.
Director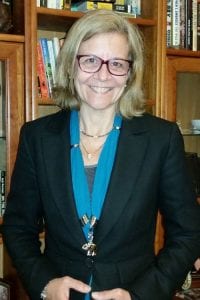 Lisa Mills is an Associate Professor of Film at the University of Central Florida in Orlando, serving as Film Area Coordinator and Graduate Program Manager. She holds a doctoral degree in political communication from the University of Florida, and teaches documentary production, documentary history, screenwriting, and story theory. Before entering academia in 1999, Dr. Mills was a broadcast journalist for 25 years. Her documentary films have won national and international awards and screened in film festivals all over the world.
In April of 2018 her short documentary Beneath the Crown screened at the Ethnografilm Festival in Paris and won a Silver Telly award. In 2016, a short documentary she directed with students, Filthy Dreamers, won the national College Emmy Award from the National Association of Television Arts and Sciences. In 2015 her experimental documentary Hymns of Three Cities screened in Chicago with a number of Kartemquin films at the (In)Justice for All Film Festival, where it received a special recognition award.
Dr. Mills will release a feature length historical documentary in Fall 2018 entitled Marching Forward, centering on the civil rights era in Central Florida.
Co-Director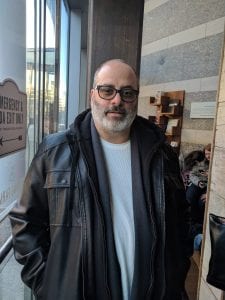 Robert Cassanello is an associate professor of history at the University of Central Florida. He is a social historian interested in public history. His book To Render Invisible: Jim Crow and Public Life in New South Jacksonville won the 2014 Harry Moore Award by the Florida Historical Society. His other books include, Migration and the Transformation of the Southern Workplace since 1945 with Colin J. Davis and Florida's Working-Class Past: Current Perspectives on Labor, Race, and Gender from Spanish Florida to the New Immigration with Melanie Shell-Weiss.