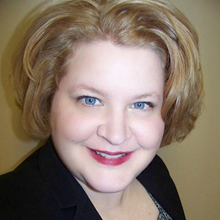 Ph.D. Candidate & Graduate Assistant

Department of Communications Media, Indiana University of Pennsylvania

United States
Karen Barone is a Ph.D. Candidate in the Communications Media & Instructional Technology program at Indiana University of Pennsylvania (IUP). She is currently working on her dissertation, entitled: "Analyzing Discourse of Renewal in Post-Crisis Organizational Resiliency Among Nonprofit Organizations." Karen's research focuses on the inherent opportunities in crisis and she is the 2011-2012 recipient of the 25th Annual IUP Foundation Doctoral Fellowship. She is thrilled to return to ICRC as a presenter for her second year!
Prior to starting her Ph.D., Karen spent 15 years working in the field of communications and public relations, primarily within the nonprofit sector. She has worked with a number of large regional nonprofits including the Maryland Theatre, the Harrisburg Symphony Orchestra, the PA Association of Community Bankers and the Downtown Carlisle Association. Her areas of expertise extend to media relations, crisis communications, grant writing and publication design.
Karen earned her MPA in 2005 from Pennsylvania State University with a concentration in Nonprofit Organizational Management and Policy. She earned her BA in Communication/Journalism in 1994 from Shippensburg University of Pennsylvania with an emphasis in Public Relations and a concentration in Business. Karen is currently teaching at Messiah College in Central PA where her course load includes Writing for the Mass Media, Fundamentals of Oral Communication, Crisis Communication and Business & Organizational Communication.
Karen plans to complete her dissertation by Summer 2013 – assuming no major crisis occurs in the meantime!
2013
Conference Plenary: Crisis as Opportunity: Encouraging Post-Crisis Organizational Renewal
While crisis is often devastating for the organization, it can also present a window of opportunity. Traditional focus in the area of crisis communication is on the use of strategic communication techniques aimed at repairing damage to organizational reputation following the incidence of crisis. Very little focus has been directed at the inherent opportunities for organizational renewal that emerge following a crisis. This presentation will focus on the utilization of the Discourse of Renewal as a means for moving the organization forward after a crisis as well as viewing the crisis as an opportunity for growth.
2012
Research Presentation: Blood, Money & Apologies: How the Liberty Fund Damaged the Public Trust in the American Red Cross