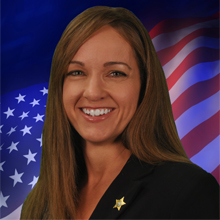 Public Information Officer

Seminole County Sheriff's Office

United States
Kim Cannaday has been with the Seminole County Sheriff's Office Public Information Office for the last eight years, serving for the last six as one of the agency's primary spokespersons. As the PIO, Kim is the front lines for providing interviews and information on both routine and breaking news incidents in one of the state's largest media markets. A 13-year veteran of the Sheriff's Office, Kim previously worked in human resources, and then as an investigative analyst before being tapped to help steer public relations as part of the Community Services Division. She studied Business at the University of Central Florida and is a member of the Florida Law Enforcement Public Information Officers Association.
2014
General Session: Managing High-Profile Court Cases: Lessons From the George Zimmerman Trial
The shooting death of Trayvon Martin sparked a national debate on guns, racial profiling and "stand your ground" laws. It was inevitable that State vs. Zimmerman would become one of the most highly publicized trials of the year.
Michelle Kennedy, public information officer for the Eighteenth Judicial Circuit, and Kim Cannaday, public information officer for the Seminole County Sheriff's Office, will discuss the challenges posed by the 24-hour cable news cycle, social media, and the sometimes tawdry side of "entertainment" news. They will also share some of the practical lessons learned from one of the nation's most talked about trials.
Both Ms. Kennedy and Ms. Cannaday will not entertain questions related to the facts of the case.