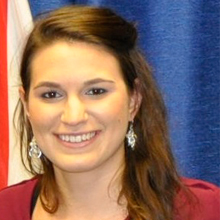 Public Relations & Social Media Outreach Coordinator

Florida Division of Emergency Management

United States
Devon Coquillard, M.P.A. is the Public Relations & Social Media Outreach Coordinator for the Florida Division of Emergency Management in Tallahassee, Florida. She manages and curates the Division's social media platforms to engage the public on preparation, and safety measures.
Devon received her Bachelor's in International Affairs (2012) and her Master's in Public Administration (2013) from Florida State University. Her Master's is concentrated in Emergency Management and Homeland Security. Her Master's project examined alternatives to engage the public via social media.
She spent the first six month of 2012 living abroad in Buenos Aires, Argentina. It is in Argentina that Devon feels she developed her passion for the art of communicating with others. She is a Florida native from Ocala.
2014
Breakout Session: Your World is Social. Are You?
Social media platforms are web platforms that extend social networks into digital spaces. These sites, which number in the hundreds, have personal, professional, and interest-based orientations. These platforms have steadily become a more relevant entity in society, as mainstays of communication; indeed social media seems to be making the switch from unofficial to official channel for news and information. The issue becomes determining how public organizations can utilize these seemingly unofficial channels in an official capacity to reach the public they serve; doing so effectively, efficiently and in a timely manner. The Florida Division of Emergency Management (FDEM), like most public organizations, faces the problem of competing with unofficial channels of information and misinformation when it comes to informing the public, which is why it is important to meet the public where they are, and they are on the technological social scene.
The simple fact being that people are spending more time on social media sites than any other type. Twenty percent of computer time is spent on social media sites, and thirty-percent of mobile-smartphone time is spent on social media applications (Nielson's U.S. Social Media Survey, p.2). Social media is where citizens are spending their time. In order to serve the public, public organizations need to be able to utilize these tools; especially during crisis'.
This is a serious concern for public organizations like the Florida Division of Emergency Management that must inform, notify and apprise the public of hazards, emergencies and safety information. Traditional mechanisms include press releases, radio and television alerts, and in some cases sirens. However, modern technology and innovations have changed the way people live and how they receive information. Other national and international options for radio and television are available, eliminating the locality of news. Americans are now getting their news via social media. Of American adults, approximately two-thirds (64%) use Facebook; half of those users getting news there—that is roughly 30% of the general population (Holcomb, Gottifried, & Mitchell, 2013). This is a significant issue for crisis communications. What is the most efficient and effective way to reach the whole of the public or the widest demographic in disaster or emergency situations? Can social media platforms be viable options for emergency management officials as alternatives to more traditional methods?
Research from the American Red Cross, Congressional Management Foundation, and other academic and private research organizations find that social media will continue to play a larger, more formal role in crisis and emergency response (O'Dell, 2011). The use of Twitter during disasters has steadily risen since its inception in 2006. The internet and social networks have provided access to faster, nearly instantaneous forms of communication that can be employed during crisis, specifically when traditional or formal channels of communication are not available (e.g., downed power lines, cellular service is spotty or unavailable, internet has been shut-down). Users across the globe tend to tweet about whatever is happening around them. "Nowadays, we tend to have social disasters, social emergencies, social earthquakes, and social hurricanes" (DiBiasio, 2012). Emergency information and crisis communications must be both timely and relevant, with regular updates and elaborations, which can be easily provided through social media platforms. The rapidness in which information needs to be disseminated during disasters is really where social media is imperative.