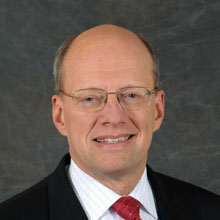 Director of Strategic Communications

Raytheon Company

United States
Michael F. Doble, APR, CFCP, is director of strategic communications for Raytheon Company. He leads crisis communications planning and response for the company. He also oversees training and development for the communications function, is the program manager for the Communications Leadership Development Program, and runs the Leadership Excellence and Accelerated Development program for senior communicators.
Mike joined Raytheon in 2002 as Vice President, Communications for the Intelligence and Information Systems (IIS) business. He was responsible for employee communications, corporate relations, advertising, media relations, and community relations for IIS locations throughout the world.
Before joining Raytheon in 2002, Doble was a senior vice president for Fleishman-Hillard in Washington, D.C., where he was the senior counselor serving government, non-profit, high technology and aerospace and defense clients in the top-rated PR firm. He was the lead counselor for major crisis drills for Eastman Chemical, Conrail, and Bryan Foods (a subsidiary of Sara Lee).
Doble served one year in the White House Office of National Drug Control Policy as Fleishman-Hillard's onsite representative as part of the award-winning National Youth Anti-Drug Media Campaign.
Previous to that, Doble was the director of corporate communications for Military.com, where he directed internal and external communications for the segment-leading Internet company.
Doble began professional life as a U.S. Army personnel and human resources officer and completed his military career as a public affairs officer, retiring as a lieutenant colonel in 1996.
His Pentagon public affairs assignments included three years as press spokesman for the Strategic Defense Initiative, public relations advisor to the Vice Chief of Staff and the Chief of Staff, U.S. Army.
Doble deployed aboard the USS Eisenhower as a senior media escort and set up on-site press operations in Port-au-Prince, Haiti, during the U.S. intervention in 1994.
Doble received his bachelor of science degree in business management from the University of Maine in 1977. He earned a master of business administration from Golden Gate University in 1984.
Doble is a member of the Public Relations Society of America and is Accredited in Public Relations (APR) by PRSA.
He also is a Certified Functional Continuity Professional as designated by the Disaster Recovery Institute International and is a member of the Society for Human Resource Management.
Doble was born and raised on the coast of Maine, and resides in Northern Virginia with his wife, Jan, and their two children.
2011
Panel: Internal Crisis and Risk Communication in Large Organizations
Panel moderated by Jeffery Robertson with panelists Michael Doble, Michael Griffin and Ann Cline.