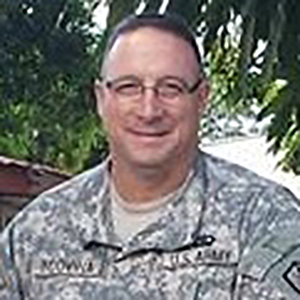 U.S. Army Colonel

PAO, US Army, JPASE

United States
Colonel Michael Indovina has been with JPASE since May 2011. As a JPASE team member, he has served on multiple Observer Trainer missions, conducted a Staff Assistance Visit in Afghanistan covering Regional Command-Southwest and Regional Command-East, conducted multiple UE academics sessions and participated in 25 +  training opportunities in every Combative Command and in miscellaneous Joint Enabling Capabilities Command consolidated training events. Additionally, he was the lead PAO for the first JPASE internal training event held in early 2012.  COL Indovina has deployed on three Global Response Missions' (GRF) in support of selected COCOMs.
Latest deployment was to Monrovia, Liberia as DOD's Media Operations Center Director for JFC-UA.
COL Indovina currently serves as the Chief Deployable Teams for JPASE GRF Mission.
==================================================
COL Mike Indovina enlisted in the US Army in 1987 into the Signal Corps. COL Indovina served four years as an enlisted Soldier in the Ohio Army National Guard while simultaneously participating as a contracted cadet in the US Army ROTC program at the University of Toledo. Mike was commissioned a Second Lieutenant in 1990. COL Indovina also served as a 2LT in the Ohio Army National Guard while completing his college degree.
Following graduation from the University of Toledo with a Communications degree, COL Indovina was assigned on active duty as an Armor Officer. As an Armor Officer, COL Indovina was assigned as a Scout Platoon Leader, and twice as an Executive Officer. Following these three assignments, COL Indovina served as an Aide-de-Camp to the Deputy Commander, Fort Knox, KY and Commandant to the Armor School. Following his lieutenant assignments, COL Indovina served in the 1st Infantry Division as an Armor Battalion Assistant Operations Officer (2-34 AR) and as a Commander of a Brigade Headquarters and Headquarters Company (1st ID). After eight years in the Armor community, COL Indovina transitioned into the Public Affairs community in 1998. After completing Defense Information School (DINFOS), COL Indovina served as a PAO in combat and in non-combat public affairs positions. COL Indovina held the following past and current Public Affairs Officer duties: PAO, 66th Military Intelligence Group, Germany; Commander, 11th Public Affairs Detachment and as the Chief, Media on the Battlefield (MOB),  PAO/Observer Controller for the MOB Division, Joint Readiness Training Center, Fort Polk, LA.; PAO, 1st Armored Division, Germany; Media Relations Officer, Allied Land Component Command, NATO, Germany; PAO, 18th Military Police Brigade, Iraq/ Germany; PA Operations Officer, US Army Europe and Lead PAO for Task Force Normandy 65th Anniversary, Germany/France; PAO US Army Cadet Command, Fort Monroe, VA; Global Response Force PAO, Norfolk, VA. and currently serving as the Chief Deployable Team, GRF PAO at JPASE, Norfolk, VA.
COL Indovina has been awarded the Bronze Star, Joint Commendation Medal, the Meritorious Service Medal x7, Army Commendation Medal x3, the Army Achievement Medal x2, the Overseas Ribbon x3, the VUA x1, National Defense Ribbon x2, the Iraqi Campaign Medal, the GWOTS, the Army Service Ribbon and the Army Parachute Badge.
COL Indovina has served more than 26 years in the US Army and plans to continue serving the Army and our country well into the future.
Joint Public Affairs Support Element in support of Operations United
Assistance (DOD's Ebola Response)
Colonel Michael Indovina was the Department of Defense's Director for the Media Operations Center
for the military's standing-up of the Task Force in Monrovia, Liberia. Working alongside the
Department of State and USAID, the TF PA team coordinated daily with host nation communication
personnel and international media.
COL Indovina will provide an overview of the Joint Public Affairs
Support Element's (JPASE) organization and where we are positioned within the
US Government structure, JPASE's roles and responsibilities in the US
Government's whole of government response to the Ebola Crisis in Liberia and
finally, will speak on lessons learned at the tactical and operational level
while operating on the Ebola Crisis response and with our interagency partners.