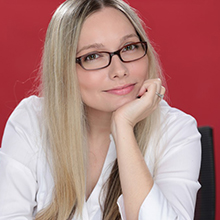 Communications Strategist

Curley & Pynn

USA
Heather Keroes, APR, offers clients experience in publicity, social media, internal communications and marketing. She joined the Curley & Pynn team after serving as social media manager for Universal Orlando Resort, where she managed the theme park destination's social media strategy and helped open The Wizarding World of Harry Potter.
A publicist with more than a decade of in-house and agency public relations and news room experience, Heather provides Curley & Pynn clients with a unique point of view. She has worked with a wide array of industries, from travel and hospitality to health care and technology.
Heather honed her account management skills in the public relations departments of Ypartnership (now MMGY Global) and Push. She began her public relations career in Walt Disney World Parks & Resorts' media relations department.
A member of the Public Relations Society of America, Heather serves on the board of directors for the organization's Orlando chapter. Her passion for the arts has led her to serve on the marketing committee of the Orlando Philharmonic Orchestra. She has also served in a number of board positions for the American Advertising Federation's Orlando chapter.
Heather graduated from the University of Central Florida's Burnett Honors College with a Bachelor of Arts in radio/television broadcasting and a minor in writing. While in college, she was news director of a student-run radio station and interned with Central Florida News 13 and AM580 WDBO.
Pre-Conference Workshop: Message Matrix® Workshop
A crisis has occurred and you are being bombarded with questions … from media, customers, internal stakeholders, family and friends.  When faced with an onslaught of questions and the 24-hour rumor cycle, avoiding speculation, communicating consistently and sharing information strategically requires a disciplined approach to crisis communication. In a crisis environment, how can spokespersons measure the effectiveness of their communication efforts, and how can they remain accountable to their organizations and to the public in terms of ethics and transparency?
Curley & Pynn Public Relations Management has managed crises both big and small for local, national and international organizations, and has built lessons learned into its Message Matrix® training program, which guides clients through a process of issue identification and message consistency, allowing spokespersons to view questions not as requirements to answer but as opportunities to respond with consistent, prepared messaging.
Curley & Pynn Vice President Dan Ward, APR, CPRC and Communications Strategist Heather Keroes, APR, will lead a half-day Message Matrix® workshop to provide Conference attendees with a step-by-step process to communicating in times of crisis, so that when a crisis occurs, they are confident, composed and prepared to respond to any question.