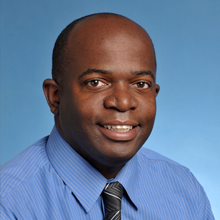 Assistant Professor

University of Oklahoma Gaylord College of Journalism and Mass Communication

United States
Owen Kulemeka (Ph.D. in Communications, University of Illinois at Urbana Champaign, 2011) is an assistant professor of strategic communication/public relations in the Gaylord College of Journalism and Mass Communication at the University of Oklahoma. His research interests include public relations, disaster preparedness communication, disaster recovery communication and social media.
Prior to entering academia, Dr. Kulemeka worked for several years in the public relations and marketing sectors. His past positions include work as public relations writer for the American Insurance Association (a coalition of the nation's largest insurers), federal marketing research analyst for Cassidy and Associate (the largest lobbying firm in the nation), and marketing research analyst for Kearney and Company (an Accounting Today Top 100 firm). He has also interned for UNICEF, OECD, UNHCR, US Airways, the Public Welfare Foundation, the Illinois Department of Agriculture, and PRIME Research.
2013
Breakout session: Crisis Communication, Millennials and the College Classroom: Lessons Learned Teaching Future Crisis Managers How to Handle Crisis Communication.
This presentation describes lessons learned from teaching a crisis communication course to undergraduates. It will provide insight on successes and obstacles when attempting to teach students how to understand different types of crises, understand the phases of crisis and related concepts.
Findings that will be showcased include how new media technologies can be used to give students a chance to demonstrate their crisis vulnerability assessment and analysis skills. The researcher will also discuss how the use of non-US case studies can enhance critical insight. Problems that arise when drafting crisis management plans and the challenges of incorporating issues of diversity in crisis communication lessons will be discussed.
Learning outcomes: The presentation will provide the attendees a chance to better understand three issues: how students view a crisis communication class, what an instructor learns from teaching such a class and the techniques that can be used to create an engaged course.