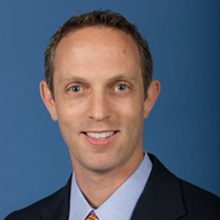 Vice President

Everbridge

United States
Marc Ladin, Chief Marketing Officer, drives Everbridge's go-to-market strategy and leads all marketing functions, including product marketing and management, marketing communications, market intelligence, and customer relationship management. Mr. Ladin has more than 15 years of software, hardware, and services marketing experience.
Before joining Everbridge, Mr. Ladin served as the Vice President of Marketing and Sales for Internet America, a publicly traded Internet services company. He was co-founder and President of Yfinium, a startup technology company in the wireless systems integration arena, and served in various sales and marketing management positions with BindView Security Software, PDQ.net, and Compaq Computer where he was one of the founding members of Compaq's first Internet division.
Mr. Ladin graduated from the Wharton School at the University of Pennsylvania with a Bachelor degree in Finance. He is a frequent speaker at conferences and seminars on technology and Internet-related issues and served as an adjunct marketing professor to the University of Houston's MBA program, teaching a class on marketing strategy.
2011
Panel: Social Media and Emergency Incident Notification
Panel moderated by Dr. Robert C. Chandler with panelists Cynthia Martinez and Marc Ladin.