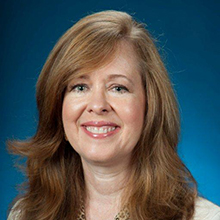 NASA Kennedy Space Center (KSC) Liaison to the University of Central Florida's Nicholson School of Communication

NASA/Nicholson School of Communication, UCF

USA
Lisa Malone, APR, CPRC, is serving as the NASA Kennedy Space Center (KSC) Liaison to the University of Central Florida's Nicholson School of Communication.
With 30 years of experience at Kennedy Space Center Public Affairs, she served in roles leading every aspect of disseminating information to the public about NASA's achievements. She led a multi-disciplined team of civil servants and contractors in performing work to engage worldwide news media, the public at the KSC Visitor's Complex, legislators, educators and students and VIP guests. She also served as a launch commentator for 15 years for Space Shuttle and expendable launches.
Malone was directly involved in Public Affairs for almost all of the Space Shuttle launches, including the Challenger and Columbia accidents. She has planned contingency communications for numerous expendable launches, such as the Saturn-bound Cassini nuclear-powered spacecraft.
An accredited member of the Florida Public Relations Association for more than 20 years, she was honored with the organization's highest recognition in 2013, the Lt. Col. John W. Dillin award.
She serves on the UCF Nicholson School of Communication Board of Visitors and the University of Florida College of Journalism and Communications Advisory Council. She is a University of Florida Bob Graham Center Knight Fellow, as of Fall 2014.
Ms. Malone received her bachelor's degree in Communication from the University of Alabama, Tuscaloosa and her master's degree in management from the Florida Institute of Technology, Melbourne.
Challenger and Columbia Communication Comparisons
When the National Aeronautics and Space Administration experienced tragic accidents with the Space Shuttles Challenger and Columbia, the families and employees were in shock and grieving, while the media and the world demanded immediate answers.  This national tragedy required a unique and careful approach to crisis communication, as well as different tactics that were not standard practice for the NASA Communications team.  On hand for both incidents, the former director of Kennedy Space Center Public Affairs compares and contrasts communication approaches and results for both incidents.  She will share lessons learned through these crisis situations which drew thousands of worldwide media headlines.