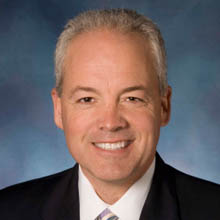 Director of Public Relations

Abilene Christian University

United States
Grant Rampy is Director of Public Relations for Abilene Christian University in Abilene, Texas.  In February 2008, ACU became the first university in the nation to embrace smartphone technology as a means of advancing educational opportunities for its students.  In February of the following year, ACU hosted more than 400 academics and technologists from 31 states and eight countries for its first ConnectEd Summit on mobile learning.  Attendees representing more than 90 schools participated in workshops designed to foster mobile learning programs on their own campuses.
Prior to joining ACU, Rampy was a nationally recognized broadcast journalist.   During 10 years as a correspondent for Tribune Broadcasting, he covered the White House, Pentagon and Capitol Hill, providing nightly on-air reports for the nation's Top 20 television markets.  Rampy was a Chicago-based national correspondent for Fox News Channel from 1997 to 1999.  He has also worked as a reporter in Tennessee, Indiana, Kentucky and Missouri.  Rampy, a 1987 ACU graduate, received the university's Gutenberg Award in 2000 in recognition of distinguished professional achievement in the field journalism and mass communication.
2012
Keynote Speaker: Crisis Communication Lessons Learned from Recent School Van Accident and Student Fatality