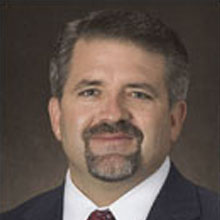 Chief Operating Officer

Good of All

United States
Jeff's professional life has focused on challenges in maritime and border security arenas. He has more than 25 years of federal government experience with the U.S. Coast Guard and U.S. Customs and Border Protection, serving in public affairs, operations, and intelligence roles.
As part of Adfero Group's Homeland Security Practice, Jeff provides strategic communication and messaging advice to a broad array of homeland security, national security and law enforcement organizations and companies.  Jeff also blogs on crisis management, immigration, the border, and public messaging issues related to homeland security as part of Adfero's Security Debrief blog.
He last served in government as CBP's Assistant Commissioner for Public Affairs – the principal communications executive for the 50,000+ person DHS component agency with an annual budget of more than $10 billion. He led strategic and crisis communications for CBP's portfolio of responsibilities, including the Border Patrol, Field Operations, Air and Marine Operations, and Trade regulation. In this role, he advised the Commissioner on public relations issues, messaging, branding, media relations, and communications strategy for border security and comprehensive immigration reform initiatives. In industry, he has served as Outreach Director, Communications Director and as a consultant. He retired from the U.S. Coast Guard in 2005.
Jeff has a B.S. in Government from the United States Coast Guard Academy and an M.S. in Strategic Intelligence from the National Military Intelligence College. He serves on several advisory boards and working groups, and serves on the board of directors for two small non-profit organizations. He lives in northern Virginia with his wife, Phyllis. They have three sons – one married and two in college.
2012
Panel Presentation
2011
Panel: Social Media in Public Health Crises and Disasters
Panel moderated by Jeffery Robertson with panelists Jay Bernhardt and Carl Taylor.
Panel: Internal Crisis and Risk Communication in Large Organizations
Panel moderated by Jeffery Robertson with panelists Michael Doble, Michael Griffin and Ann Cline.
Panel: Crisis and Risk Communication with Culturally Diverse Populations
Panel moderated by Jeffery Robertson with panelists Michael Palenchar, Jay Alan and Linda O'Brien.