Hello, this is an archived version of the previous ICRC Conference page. To redirect to the new home page, please go to:

Welcome to ICRCC Banner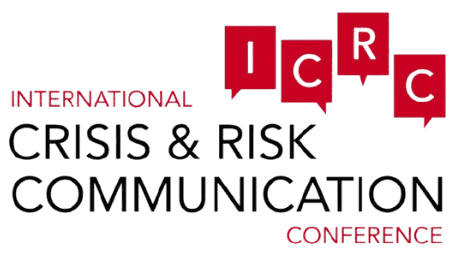 Welcome to the 12th
International Crisis and Risk
Communication Conference!
Welcome to the 12th annual International Crisis and Risk Communication Conference (ICRCC) sponsored by the Nicholson School of Communication and Media at the University of Central Florida. We are delighted that you are here.
Now that the conference is again in person here in the beautiful sunshine state, we hope you find time to enjoy, not only engaging in intellectual exchange among conference colleagues, but also experiencing some social fun in sunny central Florida. The Atlantic ocean's famous Cocoa Beach and historic "space coast" is only 60 miles east on FL-528. The Disney and Universal Studio theme parks are just minutes away on I-4, and Lake Eola's Swan Boat rides are within walking distance from the hotel.
This year's conference theme—Bridging the Gaps: Dialogue and Debate in Difficult Times—is anchored by two keynote and plenary sessions. The first focuses on local communities of practice (CoP)—featuring colleagues representing disparate organizations as they work together to address issues of risk and crisis. Keynote speaker, Dr. Ronald C. Arnett, professor and chair at Duquesne University in Pittsburgh, Pennsylvania, opens with "The Pandemic of Everyday Crisis." In the keynote address, he piques curiosity about the competing narratives we find ourselves trying to manage in post-pandemic times. Invited speakers representing the City of Orlando (Chris Castro), the Urban Resilience Initiative (Yue "Gurt" Ge), Colectivo ÁRBOL (Isaret Jeffers), Orange County Public Schools (Shayla Cannady), and Advent Health (Roy Reid, Jr.) will link Dr. Arnett's remarks to their unique experiences as on-the-ground professionals working in areas of risk and crisis.
The second keynote and plenary focuses on global communities of practice (CoP)—emphasizing "community" as global in order to tackle mega-crises events that "know no borders." Dr. Mohan Dutta, Dean's Chair Professor at Massey University in New Zealand, kicks off this discussion with his keynote speech entitled "Re-imagining crises as anchors for culture-centered structural transformations: The pandemic times." Professors Martin Löffelholz and Andreas Schwarz–both from the Technische Universität Ilmenau in Germany—follow with an overview of the multinational grant funded research DECIPHER project: "How to decipher the "pandemic public sphere:" Opportunities and Challenges of Cross-national Risk and Crisis Communication on Global Health Crises. Dr. Marsha Vanderford discusses her global perspective from working as a risk communication consultant for the U.S. Centers for Disease Control and the World Health Organization, followed by Maria Eduardo Lander's summary of her work with [il]literacy as a global epidemic that has been exacerbated by the educational lockdowns worldwide and in Mexico specifically.
We hope you are as eager as we are to engage in dialogue and debate about pressing issues of crisis and risk communication post-pandemic. In so doing, our goal is to nurture communities of practice that foster transformative best practices via a strategic discourse of renewal.
On behalf of the entire ICRCC CoP Planning Team, welcome! We are so glad you are here.