This conference's vision is to build international consortium for risk and crisis communication would not be possible without valuable sponsors. Not only do we appreciate and value your support, we truly could not continue to host the event without it. In exchange for your support, we provide you an opportunity to reach students, faculty, alumni, world-renowned researchers, and leading professionals in corporate communication, public relations and marketing, emergency management, media, and journalism with your brand.  You may also choose to join us by attending the conference to interact directly with this diverse group of influential opinion leaders.
In addition to the various sponsorship opportunities listed on the flier, we are also open to unique ideas you may have for sponsoring this important event in other ways.  If you have questions or would like more information, please reach out at icrc@ucf.edu.
Thank you for supporting academic research professors and cutting edge professionals as we work together to examine issues of risk and crisis, as well as construct and implement communication best practices for mitigating harms and saving lives.
To become a sponsor, please read information about sponsorship packages and donate by clicking the "DONATE HERE" blue button below: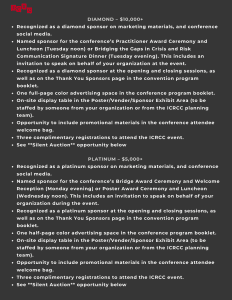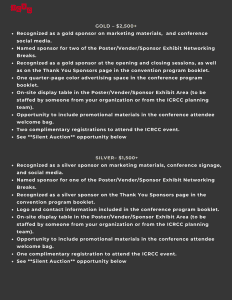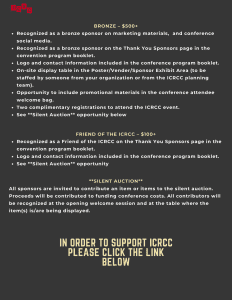 (Note: when completing the donation form, please choose "Communication Department" and not "Nicholson School of Communication" in the drop-down menu for designation. Also, please include "ICRCC" in the Comments section, so your donation will be sent directly to the conference. Also include your preference of how you would like to be addressed in the acknowledgement materials, such as your organization's name or Mr. and Mrs. Smith.)
La visión de esta conferencia de crear un consorcio internacional para la comunicación de riesgos y crisis no sería posible sin sus valiosos patrocinadores. No sólo apreciamos y valoramos su apoyo, sino que realmente no podríamos seguir organizando el evento sin él. A cambio de su apoyo, le brindamos la oportunidad de llegar con su marca a estudiantes, profesores, ex alumnos, investigadores de renombre mundial y profesionales líderes de la comunicación corporativa, relaciones públicas y marketing, gestión de emergencias, medios de comunicación y periodismo. También puede optar por unirse a nosotros asistiendo a la conferencia para interactuar directamente con este diverso grupo de influyentes líderes de opinión.
Además de las diversas oportunidades de auspicio que figuran en el folleto, también estamos abiertos a nuevas ideas de auspicio que usted pueda tener para este importante evento. Si tiene alguna pregunta o desea más información, póngase en contacto con nosotros al correo electrónico icrc@ucf.edu.
Gracias por apoyar a los profesores investigadores y a los profesionales de vanguardia en nuestros esfuerzos por examinar los problemas de riesgo y crisis, así como por construir y aplicar las mejores prácticas comunicacionales para mitigar los daños y salvar vidas.
Para convertirse en auspiciador, lea la información sobre los paquetes de auspicio y haga una donación haciendo clic en el botón azul "DONE AQUÍ" que aparece a continuación: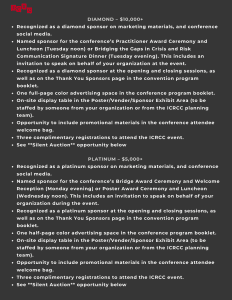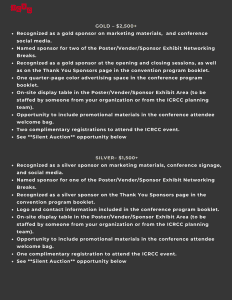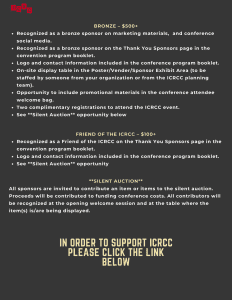 (Nota: al rellenar el formulario de donación, elija "Departamento de Comunicación" y no "Escuela de Comunicación Nicholson" en el menú desplegable para la designación. Además, incluya "ICRCC" en la sección de comentarios, para que su donación se envíe directamente a la conferencia. Incluya también su preferencia de cómo le gustaría que se dirigieran a usted en los materiales de agradecimiento, por ejemplo, "el Sr. y la Sra. Smith" o el nombre de su organización).