Welcome to ICRCC Banner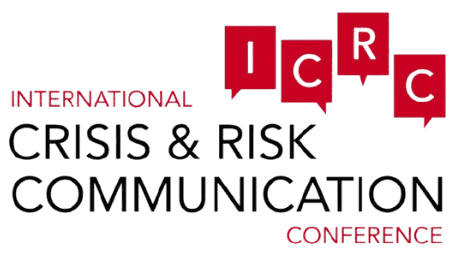 Welcome to the 12th
International Crisis and Risk
Communication Conference!
The International Crisis and Risk Communication Conference (ICRCC) affords attendees the rare opportunity to network with prominent crisis communication practitioners, leaders and researchers in a relaxed setting. You can also expect to initiate and develop strong, inspiring professional relationships that may benefit you and your organization. Open participation and feedback are encouraged, within interactive sessions with like-minded peers, professionals and researchers in attendance.
---
Join us for this important annual educational event, featuring several valuable topic presentations given by top university academics and esteemed practitioners of applied crisis communication planning and management.
La Conferencia Internacional de Comunicación de Crisis y Riesgos (ICRCC por sus siglas en inglés) ofrece a los asistentes una oportunidad única de relacionarse con destacados profesionales, líderes e investigadores de la comunicación de crisis en un entorno distendido. Asimismo, los asistentes podrán entablar y desarrollar relaciones profesionales sólidas e idóneas para su beneficio y el de su organización. Esta conferencia fomenta la participación abierta y la retroalimentación, dentro de las sesiones interactivas con colegas, profesionales e investigadores que comparten los mismos intereses.
---
Acompáñenos en este importante evento educativo anual, en el que se presentarán varios temas valiosos a cargo de los más renombrados catedráticos universitarios y destacados profesionales de la planificación y gestión de la comunicación de crisis en la práctica.