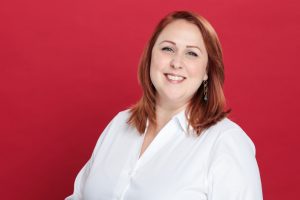 MAITLAND, FL. (Dec. 3, 2019) – Ellie Hodgkins was promoted to associate communications strategist at Curley & Pynn Public Relations Management – The Strategic Firm®. In her new role, Hodgkins will lead the planning and management of marketing and communications initiatives for the Orlando-area agency's distinguished clients in economic development, power generation and delivery, technology and tourism.
She joined Curley & Pynn in 2018 and has since coordinated the implementation of numerous media relations, marketing communications and community engagement programs for Florida Power & Light, Universal Orlando Resort and the global IAAPA Expo, among others. Additionally, she mentors next-generation public relations practitioners as the leader of Curley & Pynn's coveted internship program.
Hodgkins also exemplifies leadership as a volunteer for the PRSA Orlando Regional Chapter's board of directors. Previously, she served as a marketing consultant for Art & History Museums – Maitland and in numerous supervisory roles with Home Shopping Network, where she gained valuable experience liaising with brands such as Coca-Cola, Wolfgang Puck, Bon Appétit magazine and more. Hodgkins earned a bachelor's degree in human communication and a minor in film from the University of Central Florida.
For more information about Curley & Pynn's award-winning work with Florida's leading brands, visit www.thestrategicfirm.com. For more information about the firm's team of professionals, visit thestrategicfirm.com/our-team. Connect with the firm on Facebook and LinkedIn.
About Curley & Pynn
Founded in 1984, Curley & Pynn provides counsel and advice and total program management to Florida professionals and corporate clients who recognize that in today's business environment it is essential to communicate with all who have an interest in their success. Curley & Pynn is the Central and North Florida affiliate of MSLGROUP Americas, one of the world's largest public relations firms. For more information, visit www.thestrategicfirm.com.