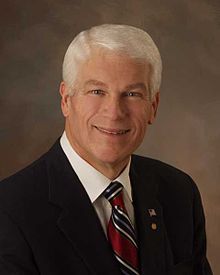 Former UCF President John C. Hitt died Monday, February 20th, 2023, at the age of 82, according to a university press release.
Hitt served the UCF community as president for 26 years until his retirement in 2018. The university credits Hitt's leadership as an instrumental part of fostering UCF's high level of growth, with a 211% increase in enrollment since Hitt took the helm in 1992, according to UCF's website.
"We will always remember Dr. Hitt as a visionary leader, a champion of education and a beloved member of the UCF community," UCF President Alexander Cartwright said via press release.
Under Hitt's leadership, UCF established the College of Medicine in 2006 and constructed the football stadium, now called the FBC Mortgage Stadium, which opened in 2007. The Burnett Honors College and UCF Downtown are also testaments to his leadership, said UCF spokesperson Chad Binette via press release.
Cartwright described Hitt as a "champion of education," while offering his condolences to the Hitt family, UCF and the community at large.
"He transformed UCF into a national leader in increasing access for students to earn a college degree and innovating through meaningful partnerships that touched our community, state and many of the industries that call Central Florida home," Cartwright said.
Hitt was succeeded by former President Dale Whittaker, former interim President Thad Seymour Jr. and current President Alexander Cartwright, according to UCF's website.
The John C. Hitt Library on UCF's main campus was named in Hitt's honor in 2012 to commemorate his 20th year as president, according to UCF Libraries.
No details have been released on the circumstances of Hitt's death. Information regarding a memorial service to honor Hitt's life will be released later this week, according to a press release.
Link: Former UCF President John C. Hitt dead at 82
Written by NSM Today
Published to Nicholson News on March 2nd, 2023.
If you have any news, accomplishments or highlights about your work or life, please be sure to share them with us, by emailing us at NicholsonNews@ucf.edu.