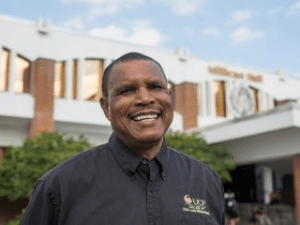 The Anthony B. Major Endowed Scholarship, created in the memory of producer, director, documentary filmmaker and beloved Nicholson School professor, Anthony B. Major, targets Nicholson School students who are committed to civil rights.
It is not the only scholarship in his name – the Anthony (Tony) Major Race Relations Scholarship is also available through the Women's and Gender Studies Program.
Major had been compared to the likes of reverend John T. Washington, Ph.D, a man who was one of the first African American faculty members at the University of Central Florida (UCF) and who mentored many students, taking them under his wing. Major kept the mission of John T. Washington alive.
Major received his bachelor's degree in theatre from Hofstra University and a Master of Fine Arts in film and television from New York University. He joined UCF in 1995 as a member of the theatre department, which later became part of the film department. Major was also program director for the Zora Neale Hurston Institute for Documentary Studies and director of the interdisciplinary Africana Studies program, housed within the College of Arts and Humanities.
The purpose of this scholarship is to support undergraduate students in the Nicholson School of Communication and Media (NSCM). Applicants must be enrolled at the university as a full-time NSCM undergraduate student, majoring in film or digital media.
Preference is given to students who are members of registered student organizations whose mission seeks to advance the needs of or promote the existence of a diverse student population. Some examples include, but are not limited to, the following: Black Student Union, National Pan-Hellenic Council or National Association of Black Journalists.
This scholarship could not have been created without helpful contributions from direct financial supporters of NSCM. Donations to NSCM provide vital funding for scholarships, special equipment and other teaching and research efforts, all of which prepare tomorrow's leaders.
Please considering gifting a donation this holiday season! For more information on donating directly to NSCM, visit the UCF Foundation. NSCM thanks those for the support.
Published December 1, 2021. Written by Iulia Popescu.
If you have any news, accomplishments or highlights about your work or life, please be sure to share them with us, by emailing us at nicholsonews@ucf.edu.