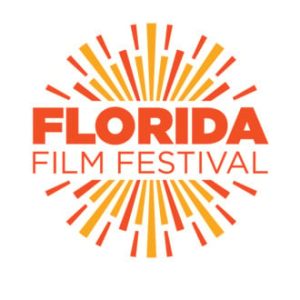 For the second time in UCF history, three MFA feature films have been selected for the Florida Film Festival, an Oscar-qualifying event that showcases the best in current, independent, and international cinema.
The festival, which is in its 32nd year, is April 14-23 at the Enzian Theater in Maitland, Florida.
Sarah Holland '19 '22 MA, a Nicholson School of Communication and Media graduate, is the producer of Egghead & Twinkie, a coming-of-age comedy about a 17-year-old named Twinkie who comes out to her parents. Twinkie takes off on a road trip to meet her online crush with the help of her nerdy best friend, Egghead. As they make their way across the country, Egghead wrestles with his unrequited feelings for Twinkie, while Twinkie learns to embrace her identity.
Holland, who earned a bachelor's in film and MFA in feature film production from UCF, says she needed this movie when she was growing up.
"I know there are other young people who need it too," says. "The central theme of friendship is universal, so there really is something for everyone in this movie. I hope audience members of all ages walk out of the theater knowing that they should surround themselves with friends who accept them for exactly who they are."
Egghead & Twinkie is an expansion of Holland's award-winning film BFA short of the same name and is playing in competition. Holland has also screened at Cinequest and BFI Flare, and she will be playing at TIFF Next Wave in April.
Check out the trailer here: Egghead&Twinkie_FestivalTeaser.mov – Google Drive
Sarah Tice '19 '22 MFA, a visiting film lecturer, will be world-premiering her feature-length psychological thriller Did I? at the festival as well. The film features a woman named Genevieve who navigates life with Dissociative Identity Disorder (DID), a severe form of dissociation that produces a lack of connection in a person's thoughts, memories, feelings, actions or sense of identity. Also known as Multiple Personality Disorder, this disorder often is portrayed in films as a villain with an "evil half" complex. In Tice's film, the trauma-inducer is the villain, rather than those with this condition.
"I have always had an interest in how the mind actively deals with trauma and dissociation," says Tice, who earned a bachelor's in film and MFA in feature film production from UCF.
The MFA Program at NSCM at UCF, is one of the few built around micro-budget feature filmmaking. "It is a huge accomplishment for these students to complete feature films at this budget-level, let alone screen them at festivals of this caliber alongside films with 100x their budgets," says Zachary Beckler, Associate Lecturer in Film at UCF.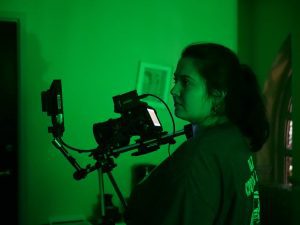 Sarah Tice during production

Lorraine Sovern, a second year MFA student, has also been selected and will be showing her short experimental film Forward Fast at the festival. While embarking on a process of archiving and preservation, the filmmaker dives into a stark exploration of self as she discovers the seeds of patriarchy and misogyny already planted in the imagery of her childhood films. Forward Fast is part of her thesis body of work, and it will also be shown in the Experiments in Cinema Festival in Albuquerque, New Mexico. She is currently at work on her next essay film titled Always/Never (Together, Forever).
For more information about the festival and tickets, visit floridafilmfestival.com.
By Majdulina Hamed.
Published to Nicholson News on April 3rd, 2023.
If you have any news, accomplishments or highlights about your work or life, please be sure to share them with us, by emailing us at NicholsonNews@ucf.edu.