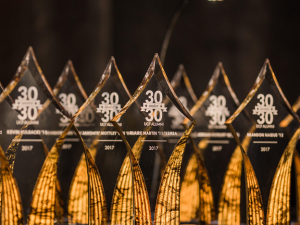 UCF Alumni has announced its annual 30 Under 30 Award winners. They stand out among their peers as innovators, entrepreneurs, teachers and more.
Above all else, each of the 2022 nominees have demonstrated great professional success, a commitment to helping others and a track record of giving back to UCF and their local communities.
Nominations for the awards were accepted online from October 15, 2021 until December 5, 2021. They were reviewed and scored by UCF staff, previous award recipients and the UCF Young Alumni Council. The finalists were then confirmed by the UCF Alumni Board based on the following criteria:
Must be a graduate of UCF (undergraduate or graduate degree)
Must be age 29 or younger on June 1, 2022
Must demonstrate a commitment to maintaining a lifelong relationship with UCF and strive to uphold UCF Young Alumni values
The 2022 award recipients are scheduled to be honored in a celebratory event on May 21. Three students from the Nicholson School were part of the 2022 honorees:
Karen Rodriguez '16
Bachelor of Arts in Advertising/Public Relations
Elle Siebert '18
Bachelor of Arts in Advertising/Public Relations
Burnett Honors Scholar
Jeremy Tache '17
Bachelor of Arts in Radio-Television (now known as Media Production and Management)
Burnett Honors Scholar
For a complete list of award winners, click here. Past recipients can also be found on the UCF Alumni website.
Originally written by Ashley Cullins on February 21, 2022 for UCF Today.
Published to Nicholson News April 1, 2022. Edited by Iulia Popescu.
If you have any news, accomplishments or highlights about your work or life, please be sure to share them with us, by emailing us at nicholsonews@ucf.edu.