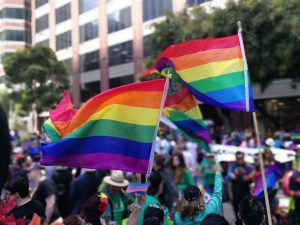 June 12, 2021, will mark five years since the Pulse nightclub shooting where 49 mostly LGBTQ+ and LatinX people tragically lost their lives.
To honor the lives taken that day, the onePULSE Foundation has activities planned for the Five-Year Pulse Remembrance Week.
The Five-Year Pulse Remembrance Week will take place on Saturday, June 5 to Saturday, June 12, 2021.
"The observance brings together the families of those whose lives were tragically taken and provides them a space to remember their loved ones in peace," the foundation said, as reported by Fox 35 Orlando. "The ceremony also honors all who survived, the brave first responders and the trauma teams who sacrificed so much to save so many."
There will be many virtual events held in June, such as the virtual volunteer event "Creating Hope: Honoring those Lost, Supporting those Struggling," which will be held from 6 to 7:30 p.m. on Wednesday, June 2, as well as smaller in-person events.
Fun events, such as "Straight Men Real Makeup" where eight straight men will perform a routine to a song of their choice while dressed in full drag, will be scheduled on Sunday, June 6 at HÄOS on Church as well as United We Dance, a night of music and dance which will honor the resilience of our community, the City Beautiful, Survivors, First Responders and our 49 HÄOS on Church, Hamburger Mary's, Pepe's Cantina from 7 to 10 p.m. on Thursday, June 10.
There will also be soccer matches – the Orlando Pride Match "Mission Rainbow" at 6 p.m. on Sunday, June 20 at Exploria Stadium as well as the Orlando City Match "Pride in Our City" at 7:30 p.m. on Tuesday, June 22 at Exploria Stadium. Tickets are available on the Orlando Pride website.
A free exhibition will be open to the public at Orange County Regional History Center called "Community: Five Years After the Pulse Tragedy" the week of June 5 to June 13.
"The entire world felt the grief of the Pulse nightclub attack, and together we found courage in community, both those that had existed and new ones of which we became a part," said Pam Schwartz, executive director, as reported on by the Osceola News Gazette.
By telling this valuable part of Pulse's collective history, the History Center seeks to celebrate the spirit of community, honor the 49 victims and all those who have been affected.
Additional details on the exhibition are available at www.thehistorycenter.org/exhibition/community-pulse/.
The full list of events can be found here.
Mental Health and Community resources for members of the LGBTQIA+ community can be found at: https://namigo.org/resources/lgbtq-services/
Published June 1, 2021. Written by Iulia Popescu. Edited by Jennifer Sandoval, Ph.D., Associate Professor and Assistant Director of Inclusive Culture. She can be contacted at Jennifer.sandoval@ucf.edu.
If you have any news, accomplishments or highlights about your work or life, please be sure to share them with us, by emailing us at nicholsonews@ucf.edu.