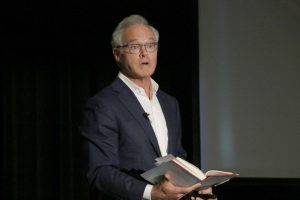 "There is no democracy without journalism," Scott Pelley, award-winning "60 Minutes" veteran correspondent, declared in front of a class full of 300 students, professors and alumni. "We need you – the people who have committed themselves to a life in journalism – but we need you to follow the values and the principles of journalism that have made American journalism the best in the world."
Pelley made these powerful statements during associate instructor Rick Brunson's Principles of Journalism class on October 28, 2019.
When Pelley speaks, the whole room is captivated, not a single soul batting an eye to ensure they don't miss a thing.
"I have been with 'CBS News' for 31 years and have been at '60 Minutes' for 21 years and I could not have imagined the adventures that I would have, the places that I would go and the people that I would meet," Pelley said. "What a privilege it is to be able to meet people and tell their stories."
The veteran correspondent wanted to emphasize the importance of following the guiding principles of journalism such as seeking the truth, shining a light on issues and people that some would rather ignore and being a vigilant watchdog in the public's interest.
Brunson, who was recently nominated for a Suncoast Regional Emmy Award for an instructional video he made on journalism ethics, has a clear passion for these principles as well, which he considers to be not only the foundations of sound journalism, but also of a sound democracy.
Brunson assigned his class to read Pelley's new book, "Truth Worth Telling: A Reporter's Search for Meaning in the Stories of Our Times," which exemplifies many of those principles. He then invited Pelley for a Skype call with him and his students.
Instead, Pelley decided to fly down from New York to address the crowd in person.
Pelley has reported some of the biggest stories of our lifetime, exposing villains and unearthing truths. He has won a record 37 Emmys for his reporting, most of them for "60 Minutes" stories, which have also been recognized with five Edward R. Murrow awards, three George Foster Peabody awards, three Alfred I. duPont-Columbia Silver Batons and a George Polk award.
During his presentation, Pelley played his "60 Minutes" story "Fighting Chance" video, where he reported from inside the Iraq war's busiest trauma field hospital. At one point in his talk, he introduced Air Force nurse Lt. Col. Paulette Schank, one of the main nurses who took care of some of the most badly injured soldiers, airmen and Marines at the hospital. Schank is featured in chapter three of Pelley's book on "selflessness" and now works as a nurse at an Orlando-area hospital.
Pelley had many things to share with the crowd, but he mainly wanted to stress the link between honesty and democracy.
"Democracy was invented because everyone in this room has different ideas, different histories, different goals in life, and so we invented democracy so that we could all talk together and move the country not left, not right, but forward," Pelley said. "I'm concerned that many Americans are walling themselves off in citadels of confirming information and we're not listening to each other anymore. We're not debating the issues anymore. But this exactly where real journalism comes in – we listen to all sides of the debate and we try to include everything in our reporting."
Both Brunson and Pelley want to inspire a new generation of journalists to be the truth-tellers of the nation.
To check out Pelley's book and read more of what he has to share about journalism, click here.
This article was written by Iulia Popescu. Pictures were provided by Nicholson Student Media.