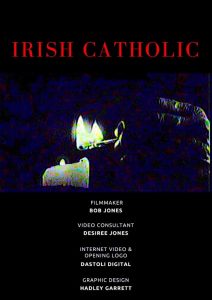 Director of more than fifty productions and an associate professor of film, Robert Jones has award-winning films, television shows and plays – but "Irish Catholic," an autobiography work, holds a special place in his heart. The film was screened in the city every filmmaker dreams of screening a film – New York City.
"Irish Catholic" is about a dysfunctional family and their relationship with the Catholic church.
"I was a big fan of autobiographical films especially gritty life in the city films," Jones said.
As an independent film producer, writer and director, Jones has worked on countless films, including a short film "Mid-Life Crisis" and a feature "Hollywood Capri" which utilized more than 50 UCF film students working side by side with professionals. "Hollywood Capri" was also featured at the 2000 AngelCiti Film Festival and the 2000 New York International Independent Film/Video Festival.
"No Expectations," another autobiography of his, is about a young singer who tries to escape her working class neighborhood as her brother slips into a life of crime.
Professor Jones received his M.S. in Film from Boston University in 1967, a certificate from University of Paris, Sorbonne in 1962 and his M.F.A. in Film Producing from University of California, Los Angeles. He was always inclined towards the visual arts, including interests in photography and painting.
In 1996, professor Jones received the University of Central Florida TIP Award for outstanding teaching. In 1998, he won the Christopher Columbus Screenplay Discovery Award, presented by the Hollywood Film Festival, for his screenplay "Finders Fee."
To view his short auto-biography "Irish Catholic," click here.
Published August 3, 2020. Written by Iulia Popescu.
If you have any news, accomplishments or highlights about your work or life, please be sure to share them with us, by emailing us at nicholsonews@ucf.edu.